Description
Let us place ourselves into the loving arms of the Holy Virgin Mother, under the folds of her maternal mantle.
Holy Scripture tells us that Christ is the New Adam, and where all died in Adam, all may be made alive in Christ. The Blessed Virgin Mary plays a role that rightfully entitles her the New Eve.
Who is this woman Catholics adore so much? Why do they speak of consecrating their hearts to her? Is it not God who we are to adore with our whole heart? Why is it so important that Mary remained a virgin? Was Mary truly sinless?
Deacon Harold Burke-Sivers and Jesse Romero will guide us through these questions and many more using their dynamic speaking abilities. Both Deacon and Jesse will invigorate your Catholic faith while at the same time provide strong Catholic teaching and formation.
Just as Eve was made from the flesh of Adam, and it was Eve who tempted Adam into death. Mary's own flesh is given to Christ, and it is through Mary's love for God that Christ comes into the world, undoing the fall of man. Through her we are no longer the "poor banished children of Eve." Understanding Mary helps us understand Jesus…Mary always points us to her Son.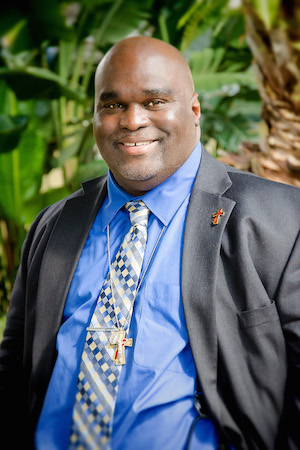 Deacon Harold Burke-Sivers:
Deacon Harold Burke-Sivers - known around the world as the "Dynamic Deacon" - is one of the most sought-after speakers in the Church today. He is a powerful and passionate evangelist and preacher whose no-nonsense approach to living and proclaiming the Catholic faith is sure to challenge and inspire those who hear him.
Deacon Harold travels across the United States and around the world speaking at conferences, workshops, retreats, parish missions, high schools, and young adult events - in short, to people of all ages and from all walks of life who desire to know Jesus intimately and enjoy a deeper personal relationship with Him.
His areas of expertise include marriage and family life, discerning the will of God, the sacraments, the Church's vocational choices and how they are lived out, male spirituality, pro-life issues, evangelization, prayer, and many others.
He co-hosts a weekly broadcast, "Living Stones," every Monday on Mater Dei Radio, and has appeared as a guest on numerous other national and international radio programs, including "Catholic Answers Live" and "Vocation Boom Radio." In addition, he is the host or co-host of several popular series on EWTN television, including "Made in His Image: Family Life Today," "Authentically Free at Last" and "Priests and Deacons: Ministers of Mercy." Deacon Harold is also the author of the best-selling book, Behold the Man: A Catholic Vision of Male Spirituality published by Ignatius Press.
Deacon Harold is featured on The Greatest Commandments: A 40-Week Spiritual Journey for Married Couples, a vibrant marriage-enrichment program rooted in biblical values and designed to help husbands and wives know God better, trust Him fully and love Him completely throughout the course of their married lives.
Retaining a deep love of Benedictine spirituality which he gained during his time discerning a call to that religious community, Deacon Harold is a Benedictine Oblate of Mount Angel Abbey. He is also a member of the Fellowship of Catholic Scholars, the Confraternity of Catholic Clergy, and a consultation team member for the National Conference of Catholic Bishops' National Directory for Catechesis.
Most importantly, Deacon Harold is married to his lovely wife, Colleen, and they have four beautiful children. They live in Portland, Oregon, where Deacon Harold is assigned to Immaculate Heart Catholic Church.
For more information on Deacon Harold Burke-Sivers please visit his website: www.deaconharold.com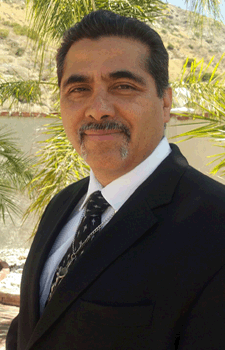 Jesse Romero:
Jesse is a full-time bilingual Catholic Lay Evangelist, who is nationally acclaimed for his dynamic, upbeat Christ centered preaching. His preaching apostolate is "On Fire Evangelization."
Jesse is a resident of Phoenix and a retired Los Angeles Deputy Sheriff who has been married to his wife Anita since 1983, and is parent of three children.
He has a B.A. from Mount St Mary's University in Los Angeles and an M.A. in Catholic Theology from Franciscan University in Steubenville, Ohio. Recipient of the Archbishop Fulton J. Sheen Award, The Fullness of Truth "Defender of Faith" Award & "Sports Faith International Award"
He is the author of "Our Mouths Were Filled with Laughter," "La Verdad Te Hará Libre" & "Catholics Wake Up." (new release Oct 2014)
Jesse has been on EWTN radio for over 10 years hosting 'Reasons for Faith,' he is also on Guadalupe Radio in Los Angeles hosting 'La Verdad Te Hará Libre,' and on Immaculate Heart Radio hosting "The Jesse and Terry Show."
Jesse has been preaching for over 15 years. He has also defended Holy Mother Church in several official debates with different Protestant Pastors, and on Spanish television against secular humanist.
His motto is: Love God, Save Souls, Slay Error!