Creating Flood Plain Wall, a remedial art installation, Carson River, Mary O'Brien, Minden, Nevada, 2015, Photo credit: Simon Williams, TNC
About this event
Art + Activism Episode No. 7 welcomes
Mary O'Brien- Individual Impact: Finding an Activist Life
How does one make any dent in the massive task of impacting our human footprint on the earth? And what issues get included? Mary O'Brien firmly believes individuals hold the keys to solving our greatest environmental challenges through lives lived as seekers, doers, activists, and artists.
Working as an artist is challenging and challenges each one of us personally. O'Brien feels working on the land in a curative way, as especially women can, contributes to the body of science, art, culture, and politics that can help lead us to a safer, more enlightened world for us and all our neighbors.
O'Brien has been grappling with the dichotomies she encounters as an artist and activist, and finding a place where an environmentalist can feel at home within a diminishing natural presence. The energy she continues to put into her life's body of work resonates with one question: Isn't it time for environmental art to become mainstream—to take its place amongst other larger genres both in the greater art world and in the progression of human cultural resources.
Mary O'Brien is an artist, writer and poet. Her writing evolves out of her engagement with place and community, and the research she develops for land art installations. Her non-fiction works delve into ecological loss, disappearing wildness, and community resilience. She writes about political landscapes and our anthropocentric relationships with them—the ways in which wars, capital, and infrastructure have molded lands and communities.
O'Brien's public art installations are collaborations with her partner, the artist Daniel McCormick. Their works can be found across the US. These are environmental art installations with restorative outcomes—land art projects that take on current and local conservation challenges through the artists' aesthetic lens. Together they created remedial land art installations for The Nature Conservancy, the City of Palo Alto, Pasadena Public Works Department, Santa Clara Valley Water District, the Port of Venice Louisiana, and the Parks and Rec Department of Charlotte, North Carolina.
O'Brien's essays and poems have been published in Field to Palette, Stanford University's MAHB Journal; The Solutions Journal; Women's Eco Artist Dialogue Journal, Silver Birch Press, and Soren Lit.
DONATIONS
WEAD is charging $1 per ticket but we invite you to pay more if you can to help us raise funds for the much-needed upgrade of our online artists directory. For larger donations you may go to DONATE here at our Paypal donation page.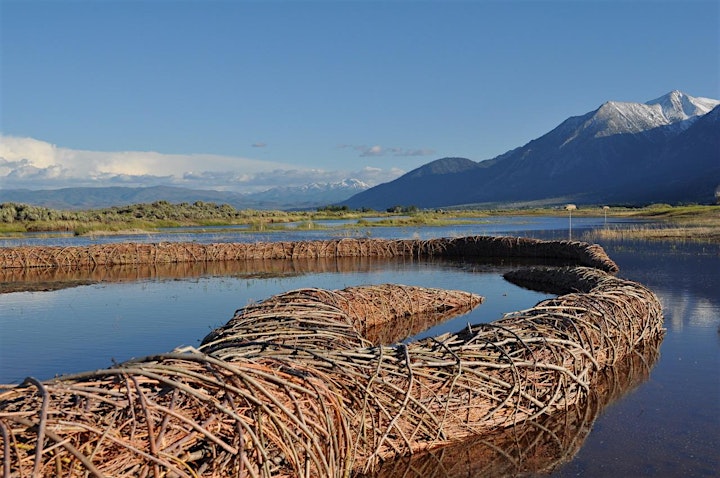 FLOOD PLAIN WALL, an 300' restorative art installation that re-channels flood waters and enhances habitat for the endangered Western Pond Turtle, Willow Flycatcher, and others. Photo credit: Mary O'Brien, watershedsculpture.com Minden, Nevada.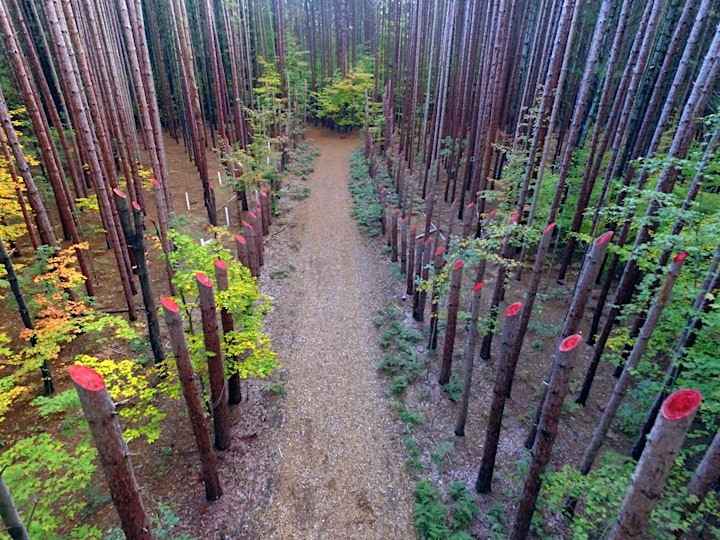 SKY OPENING, a reforestation project in a dying red pine tree plantation. Interlochen, Michigan, 2018. Photo Credit: Chris Hintz, Isee Communications
Cut into a 90' tall stand of overgrown plantation trees, the sculpture promotes naturally-occurring reforestation processes in a mixed hardwood/conifer forest and brings back habitats lost to wood production enterprises from the early 20th century.
WEAD'S ART + ACTIVISM WEB SERIES is grounded in the belief that art can be a powerful tool for raising awareness and prompting social change. In this series we explore ways that artists actively engage in creating climate solutions and in promoting sustainability.
Organizer of MARY O'BRIEN Individual Impact: Finding an Activist Life
WEAD is a pioneering network of feminist eco­artists, educators, curators, and writers working toward the goal of a just and healthy world. We focus on women's unique perspective in ecological and social justice art. WEAD maintains an invaluable website (weadartists.org) that serves as a virtual gallery of eco­artists work, connects artists and curators with exhibition opportunities, and educates and enlightens through its ground breaking WEAD Magazine.
PURPOSE 
To provide information regarding the ecoart and social justice art fields to artists, curators, writers, art and public art administrators, educators in art and ecology, cross-disciplinary professionals and others.

To facilitate international networking among artists working with ecological and social justice issues.

To further the fields of, and the understanding of environmental and social justice art.