Description
Agenda
12:30 - 1:00 Networking. Come early to catch up with your colleagues and make new friends
1:00 - 1:05 Welcome
1:05 - 1:15 TOP 10
1:15 -2:30 Guest Speaker: Mary Kelly, PhD, CDR USN (ret)
2:30 - 2:55 Networking Break
2:55 - 3:05 PRO 10
3:05 - 4:00 Guest Speaker: LMary Kelly, PhD, CDR USN (ret)
4:00 Meeting adjourns
4:30 No Host Social
Program Description:
There are many gifted speakers on the platform. (Yeah, I said it. PLATFORM!) But a lot of speakers are making at least three critical mistakes that is costing them in both revenue and personal income. (Yes, there is a difference.)
Are you running your business like a business? Are you looking long-term at your profits and expenditures, and effectively planning your business and personal finances properly?
Are you developing the products and multiple streams of income (no, that does not mean working as a greeter at Walmart AND working the window at Taco Bell) that provides you with a sustainable lifestyle?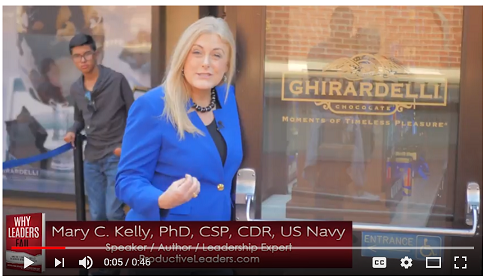 Click here to watch a short video from Mary.
---
Mary is an economist, professor, and author of 11 books, multiple workbooks, CDs, DVDs, and hosts of other products. Her program "15 Ways to Grow Your Speaking Business in Every Economy" is based on the best-seller (according to Amazon one day at 3:14 AM for exactly 3 seconds) book 15 Ways to Grow Your Business in Every Economy and will help us be more profitable as speakers. Mary is also going to include elements of her other best-selling personal finance book, Money Smart: How Not To Buy Cat Food When You Don't Have a Cat to help us make sound decisions regarding finances"If you are not making a profit, then this is a hobby, not a business. That's fine as long as that's your intention.
If you are not making the money you want, this program might help. Then again, it might not. I like low expectations." –Mary Kelly
Mary loves dogs, coffee, and red wine. Feel free to bring her some. She became a professional speaker after retiring from the Navy after 25 years on active duty. A university professor for over 28 years, she currently teaches at the Air Force Academy. She previously taught leadership, management, economics, and finance at the Naval Academy and Hawaii Pacific University. Nobody sleeps through her classes.
Mary is dedicated to helping people grow their businesses to be profitable.

Mary serves on the board of the Colorado NSA Chapter, and published the NSA CO Directory to help meeting planners find and book local speakers. Mary was the Chair of the Editorial Committee of Speaker Magazine from 2014-2015, and she currently serves on the national CSP Committee and the NSA Investments Committee because she has not mastered the ability to say "NO" to her friends.
---
NSA Northwest does not offer refunds for event registration unless:
The event is canceled OR

The program is changed due to unavailability of scheduled program speaker
QUESTIONS? Send an email to info@nsanorthwest.org.
A response to your email request will be provided within 48 hours of receipt.