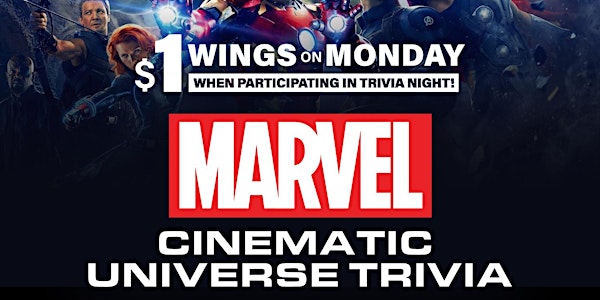 Marvel Cinematic Universe Trivia
"There are two types of beings in the universe, those who dance and play trivia, and those who do not."
When and where
Location
All Stars Sports Bar & Grill 327 West 57th Street New York, NY 10019
About this event
Come test your knowledge at Marvel Cinematic Universe Trivia at All Stars Sports Bar & Grill on Monday, August 22 starting at 7pm! FIVE unique and challenging rounds on your favorite beloved Marvel Movies!
RSVP at your table by going to: http://MCU082222.Eventbrite.com
$1 wings on Monday when participating in trivia night!
The best way to reserve tickets is by selecting a team captain and having them be in charge of tickets for ALL team members.
For example, if The Hulk, Captain America, Rocket and Groot form the new Avengers Super Team and The Hulk gets put in charge, he will then reserve tickets for himself, Captain America, Rocket and Groot = (4) in total.
PLEASE ONLY RESERVE SINGLE TICKETS IF YOU ARE PLAYING BY YOURSELF.
We will send a confirmation email to everyone closer to the event.
"Don't do anything I would do. And definitely don't do anything I wouldn't do. There is a gray line there."