SIP & INSPIRE | Martinis & Manifestations Vision Board Party
About this event
WHO: PowHer PlayHers & Platinum Image Ent Group
WHAT: SIP & INSPIRE | Martinis & Manifestations | Vision Board Party
WHEN: SUNDAY | January 23, 2022
TIME: 4:00pm – 7:00pm
WHERE: PRIVATE DMV LOCATION
PowHer PlayHers Presents SIP & INSPIRE | Martinis & Manifestations Vision Board Party will take place on Sunday, January 23, 2022 at a PRIVATE LOCATION in the DMV area from 4:00pm - 7:00pm. The event will feature an inspirational yet soulful playlist to set the VIBE.
Martinis & Manifestations is a women empowHERing networking event with an emphasis on MANIFESTATIONS! Our 2022 theme is 'Manifesting Your Purpose & PowHer!' 2022 is personal…It's time to TAP IN & MANIFEST! We invite all (PowHer PlayHers)Professionals, BOSSES, HustlHers, Visionaries, EntrepreneuHers, CreateHers and others to join us as we complete a roadmap to our 2022 dreams. Studies show that the art of visualization is very effective and a great inspiration. PowHer PlayHers will be taking advantage of the new year and new energy; transferring & manifesting our goals into a visual representation of the dreams we will conquer and make a reality for the year.
We will get DRESSED UP, SIP on a few Martinis &ENJOY strategic goal setting as we MANIFEST!
Attendees will be provided with Vision Board Supplies, a Manifestation Mechanisms Manual (Digital Download), Inspirational Print Outs and more.
POWHER PACKAGE INCLUDES:
*(1) 16X20 BOARD
*(1) GLUE STICK
*(1) PAIR OF SCISSORS
*(1) METALLIC GOLD PEN | (1) METALLIC SILVER PEN
*(1) BLACK SHARPIE
*(1) PACK OF INSPIRATIONAL STICKERS
*(1) INSPIRATIONAL PRINT OUTS
*(1) MANIFESTATION MANUAL
*(1) MARTINI GLASS
*COCKTAILS
*FOOD | MUSIC | VIBES
*DESSERT BAR
This event is curated by Platinum Image Ent Group & PowHer PlayHers.
Join us for an evening of INSPIRATION, Goal Setting, Crafting, Creating, EmpowHERing & MANIFESTING!
Tickets will be limited to preserve an intimate atmosphere for the powHerful experience.
CONNECT with us on all social media platforms and join our PowHer NetwHerk on Facebook. For more information or to purchase tickets...Visit our website www.PowHerPlayHers.com.
#PowHerPlayHers #MartinisAndManifestations #VisionBoardParty #Manifestations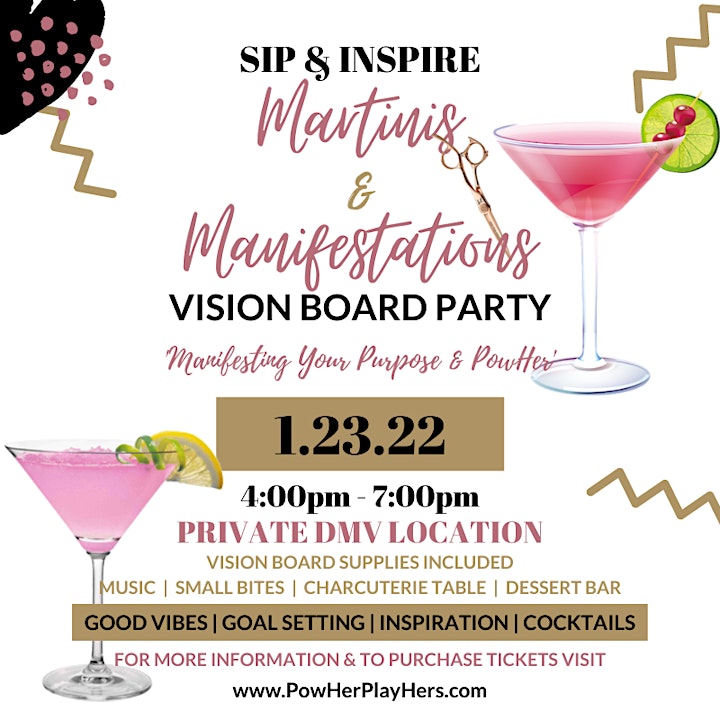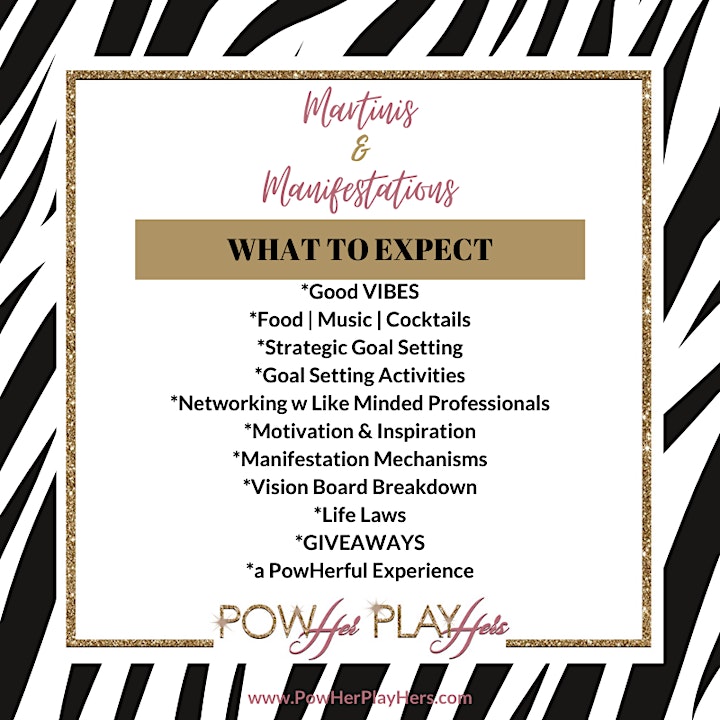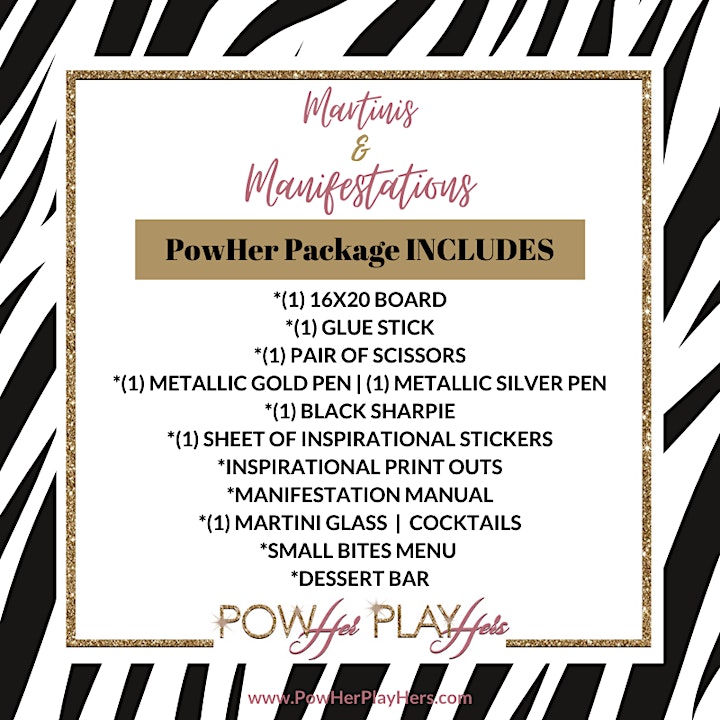 Organizer of Martinis & Manifestations | VISION BOARD PARTY
PowHer PlayHers is an alliance of PowHERful women who encourage, celebrate, motivate and empowHER likeminded PlayHers.  PRAYER, positivity, inspiration and motivation is extremely important to our success in today's climate.   Our alliance will provide the necessary support to be the ultimate PlayHer.   
The PowHer source for women empowHERment!  #beINSPIRED