Martin Sexton at the Wall Street Theater
About this event
GENERAL ADMISSION BALCONY TICKETS AVAILABLE FOR SUNDAY 5/27 INDOORS
MARTIN SEXTON HAS BEEN RESCHEDULED FOR AN INSIDE SHOW AT THE WALL STREET THEATER. YOUR PODS WILL BE IN APPROXIMATELY THE SAME PLACE INDOORS AS THEY WERE OUTDOORS, I.E. IF YOU WERE IN THE FRONT ROW OUTDOORS, YOU WILL BE IN THE FRONT ROW INDOORS. SEATING WILL BE SOCIALLY DISTANCED AS IT WAS OUTDOORS.
Doors Open at 6pm
Singer-songwriter Martin Sexton is like an ultra-active antenna, adventuring through the static to grab a clear signal. When he dials in on one station, he then quickly shifts to the next one. This everchanging attention span drives his family crazy, but it's ingrained in Martin, dating back to his childhood when he would tear through television primetime programming.
This ability to hone in on little defining moments suits Martin as a songwriter as evident by his latest EP, 2020 Vision. This is Martin's first release in 6 years, and it is a poetically emotive and an elegantly evocative pandemic scrapbook. "In one song, I'm building a treehouse with my son. In another song, I'm crossing America and seeing the beauty in people rising through adversity and loving each other," Martin details.
The recordings were tracked virtually during lockdown and produced by three-time Grammy-nominee John Alagia, best known for producing John Mayer's breakout album, Room For Squares. Mayer, who has always championed Martin as a foundational influence, makes a special guitar solo cameo on one of the EP's singles, "Calling on America." This 4-song collection will be available on the digital platforms, and also issued as a handsomely-packaged vinyl release.
Martin's ever-shifting focus also manifests itself in his freewheeling musicality. He nurtured a critically-acclaimed trademark aesthetic through embracing soul, folk, blues, rock, pop, and sweet balladry. His last album, 2015's Mixtape of the Open Road, garnered raves from the Wall Street Journal, Billboard, Folk Alley/NPR Music, and Relix Magazine.
One constant in Martin's life and his music is celebrating America. His 1996 Black Sheep album featured a rendition of "America The Beautiful," and his major-label debut was simply called The American. Also, Martin getting his start in music through leaving his upstate New York hometown with seventy-five bucks and a Stratocaster to chase his aspirations brims with anthemic American Dream overtones.2020 Vision continues this American story.
"I see America as flawed, but not irredeemable. I love that we have community leaders, politicians, actors, and artists from all backgrounds speaking up, raising their voices, and becoming the heroes of today," Martin says. "My faith is renewed to see the injustices of the world now beginning to be met with accountability. I remain hopeful and optimistic."
2020 Vision snapshots moment of clarity during the pandemic and beyond. The EP's leadoff single, "Hold On," is one of those sun-shining-through-the-rain songs. It brims with soul guitar fixings, punchy horns, and a touching narrative of the simple pleasures of spending time with loved ones. "The silver lining in the pandemic was more facetime with my family. We cut each other's hair, we biked, and I got around to finally building that treehouse with my son," Martin recalls. "We finished building it on a sunny summer day, and I grabbed my old Gibson and sat down inside the new fort and this tune presented itself to me."
The EP's second single, "Calling On America," follows in the grand tradition of tender R&B cultural commentary epitomized by soul poets like Curtis Mayfield's and Marvin Gaye. It's a scene-setting song panning through visual vignettes of love and harmony while also contemplating division. "I see too much division and hate projected on the airwaves," Martin shares. "Because of what I do, I travel and meet folks in the world, and although it's far less common than it should be, I find it encouraging to see people of all walks of life getting along. I believe solidarity through music is a very powerful thing and I've always strived to advocate that through my songs and my shows." The song's purposeful messaging goes down smooth with folksy acoustic guitar, gospel-tinged organ playing, pining pedal steel, and Martin's trademark honeyed vocals. "Calling On America" is further enhanced by a John Mayer guitar solo, a lyrical but fleet-fingered statement that hits that sweet spot between blues and country. The EP is rounded out by the impressionistic folk song, "Riding Through The Rain," and the James Taylor-esque, "Penny from the Land of Plenty," a powerful and hopeful statement on the opioid epidemic.
Up next, the road is calling Martin as tour dates are being booked in this post-vaccine chapter. 2020 Vision will always have its lessons and remain in Martin's sight, even as the miles out on the road put pandemic life in the rearview mirror. One of those lessons is the power of togetherness. Martin says: "My mission statement for the past 15 years has been unity through music, and I am committed to sharing peace and harmony through my songs."
Check Out Martin's New Single "HOLD ON":
https://ffm.to/martinsexton-holdon?fbclid=IwAR0Mm-85vaYVa6Zxpjv91sCmAup3fLwYbC6Oj0h9uUM5x7r2wsSZU40s-EY
FAQ:
What are the COVID requirements?
Masks are not required for patrons on site though we do ask patrons stay in their marked POD spaces during the performance unless visiting the bar or using the bathroom.
What food and beverages will be available?
No Food or Beverages allowed on site, we will have a full liquor bar with a variety of libations for sale.
Are dogs allowed?
No animals allowed. With the exception of service animals.
Where should I park?
We suggest parking in the Yankee Doodle Parking Garage located - 3 Burnell Blvd, Norwalk, CT 06850.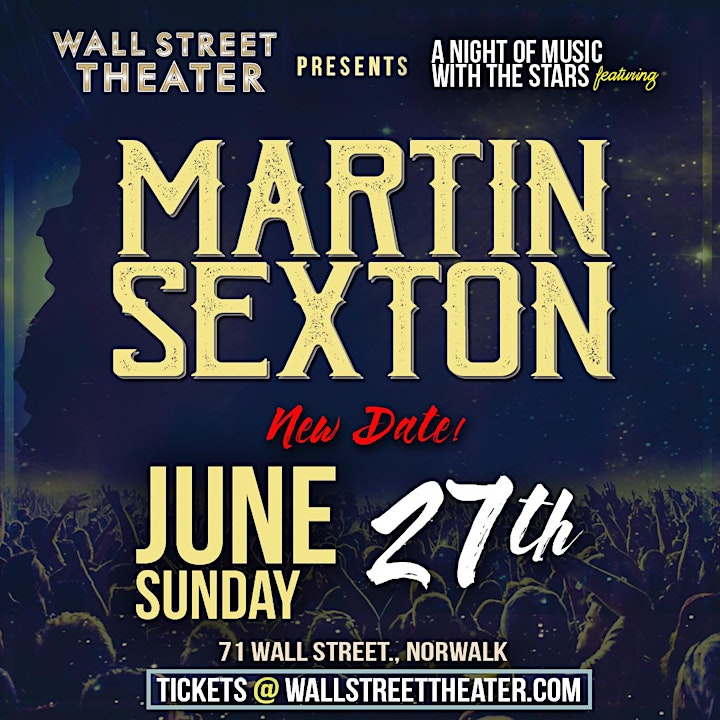 Performers
Date and time
Location
Refund policy
Organizer of Martin Sexton