Description
Your admission provides complimentary appetizers, as well as 25 raffle tickets, the opportunity to participate in an exciting live auction and enjoy some great music by the incredibly talented duo of Martin and Kelly to benefit Joey's Team and March of Dimes in Boston.
RAFFLE ITEMS:
Bose SoundLink Micro Waterproof Bluetooth Speaker & CDs from Local Friends of Joe (Joey) CD Collection: Artists include Martin and Kelly, Ayla Brown, Annie Brobst, Krista Angelucci, and Whitney Doucet

UMass Lowell Ticket Package

Loretta's $100 Gift Card

$50 Loretta's Last Call Gift Card and $50 The Landsdowne Pub Gift Card

$50 Back Bay Social Gift Card

$25 Loretta's Last Call Gift Card, $25 The Bleacher Bar Gift Card, and $25 Game On Gift Card
LIVE AUCTION ITEMS:
Boston Bruins team-signed hockey stick

2 Boston Red Sox tickets with the opportunity to watch batting practice from the field as well as a private VIP Tour of Fenway Park

World Series baseballs signed by Chris Sale, Nate Eovaldi, and Craig Kimbrel

2 Pairs of Bose Frames; a Deana Carter Prize Pack including a bottle of real Strawberry Wine

A tour of WCVB Channel 5;

A chance to sing with the band

Henry McKenna Single Barrel Bourbon!

10 Tickets to a UMass Lowell Basketball Game (Men's or Women's) of your choice
NEW THIS YEAR, Joey's Team T-Shirts are also available for purchase using the ticket link on this page and some will be available at the event as well!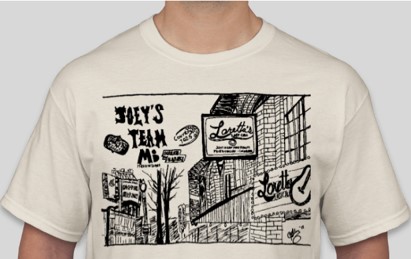 Martin and Kelly have become the next must-see act from New England to Nashville. Over the years, they've been featured as support acts for many traditional, and mainstream country artists. Standouts in today's crossover country music scene, Jilly & Ryan's songs bridge the boundary between traditional and new country. They've made their mark with highly-acclaimed original music and are winning over audiences each and every time they perform. Jilly and Ryan's compelling song-writing, dynamic vocal harmonies and stunning musicianship have them poised for a breakthrough in the music industry.