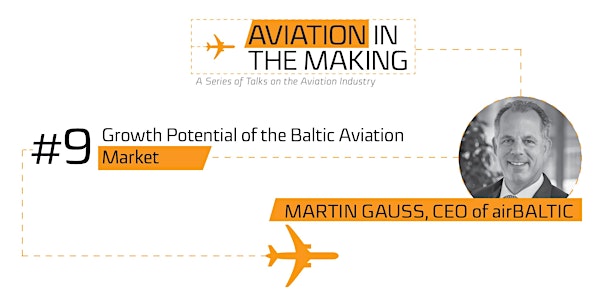 Martin Gauss: Growth Potential of the Baltic Aviation Market
Event Information
Location
Dariaus ir Girėno g. 21
21 Dariaus ir Girėno gatvė
02189 Vilnius
Lithuania
Description
Martin Gauss: Growth Potential of the Baltic Aviation Market


– Transition of Baltic aviation market during the past decade
– The role of airBaltic in the future of the Baltic aviation market
– How are the Airbus A220-300 transforming the business of airBaltic
– Vilnius hub case study and development scenarios
About

speaker



Martin Gauss
CEO of airBaltic

Martin Gauss joined airBaltic in November 2011. Under his leadership airBaltic executed a robust turnaround program leading the airline back to profitability. Martin Gauss is a professional with more than 24 years of experience in the airline industry. He began his career in 1992 as a B737 pilot of the British Airways subsidiary Deutsche BA. By 1995 he was working in the management of the airline.

Part of AVIATION IN THE MAKING / A Series of Talks on the Aviation Industry
The current situation within the world of aviation is very optimistic, although there are a number of contradictions. The big players are buying out the small ones, challenges within aviation security are on the constant increase, and new areas of operation and regulation come into play as drones and commercial space flight become a reality.
Much strategic thinking about the future of air transport needs to be accomplished as it predetermines the economy within the entire region. International Air Transport Association predicts that air travel will double within the next 20 years and freight air transport is already one of the fastest growing sectors of the economy within the European Union. What do aviation leaders think of such predictions?
Kazimieras Simonavičius University and the company Friendly Avia Support have joined forces with the intention of concentrating ideas and deepening the knowledge of air transport by organising a series of public discussions about the industry with its leading managers. Sixteen meetings will take place during the 2017-2019 academic year in which distinguished aviation company managers will share their views and insights on the situation within various fields of air transport and evaluate the region's airport systems within a global context.
--- --- --- --- --- --- ---
Registration required / Privaloma registracija
More info / daugiau:
+370 614 75790
rimvydas.vitenas@ksu.lt
http://www.ksu.lt/aviainthemaking/
http://www.ksu.lt/mokymai/aviainthemaking9/
#AviationIndustry #KSUniversity #AviaintheMaking
Date and time
Location
Dariaus ir Girėno g. 21
21 Dariaus ir Girėno gatvė
02189 Vilnius
Lithuania