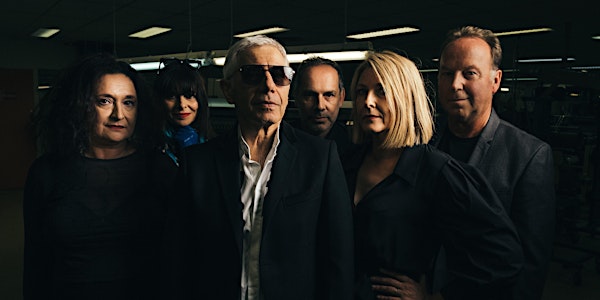 Martin Dupont
ALL AGES
Noise Pop Presents
Martin Dupont at Great American Music Hall
Date and time
Starts on Thursday, May 18 · 8pm PDT.
Location
Great American Music Hall 859 O'Farrell St San Francisco, CA 94109
About this event
Martin Dupont is a band that produces beautiful, heady electronic, has a mysterious French name, and vocals that are sung in English. A hard-to-classify group from Marseille with a cult following, Martin Dupont has inspired some of the luminaries of the contemporary music scene crossing many genres from hip-hop to electro to techno. Tricky, MadLib, Mick Wills, Marcel Dettman, and Theophilus London (protegé of Kanye West) are just a few of the artists who've been touched by the beauty that is Martin Dupont.
Martin Dupont formed in Marseille in 1980 and consisted of Alain Seghir, Brigitte Balian, Beverley Jane Crew, and Catherine Loy. They were immensely talented with a rare dynamic between them that was likely inspired by a combination of their magnetic personalities, creative vision, and the home studio where they recorded. The music they made was colorful, enthusiastic, and delicate, but also melancholy and mysterious. A mixture of hot and cold, light and dark. They made electronic music that incorporated guitars and clarinets and is described by many as New Wave yet they truly transcended genres. They had mainstream success finding themselves opening for legendary bands like The Lotus Eaters, The Lounge Lizards, and Siouxsie and the Banshees, without any intention of ever being a commercial enterprise. In Beverley Jane Crew's words, "the songs just tumbled out in a completely organic and spontaneous way and as soon as they were recorded on the four-track, they were shared with friends on tapes, openly and excitedly." By 1987, they disbanded but left behind three cult albums: Just Because, Sleep Is A Luxury, and Hot Paradox, one cassette entitled Inédits 1981-1983, and one 7" single entitled Your Passion. Martin Dupont remained under the radar for over thirty years, but since achieving unexpected success in the US, championed by the New York label Minimal Wave, first with the 2008 release Lost and Late and more recently with The Complete Collection 5LP box set, the band is now making a comeback. They will perform live again supported by additional musicians Sandy Casado and Thierry Sintoni, of the band Girls Like You, along with Ollivier Leroy. They will be returning to the very stages that hosted their first gigs, bolstered by their ever-increasing fan base. They will then embark on a major international tour in 2023.
Stay tuned for a new album by Martin Dupont called Kintsugi due out on February 7th, 2023. The album features lush re-works of their old songs, and will be available on CD via Infrastition, vinyl and cassette via Meidosem, and digitally via Minimal Wave.
About the organizer
Concerts and events with your new favorite bands at venues all across the Bay.
Championing independent music and culture since 1993.
$25 – $30
On Great American Music Hall