Description
The Martian Feast 1010, for Mars 2020 mission.
The 8th Annual Mars City Design Gala Dinner 2019:
An IMMERSIVE Dining on Mars Experience.
A demonstration of a Zero-waste awareness and sustainability in the culinary movement.
A Gala Award Ceremony evening to celebrate the Winning Designs of Mars City Design Challenges 2019.
An exclusive and rare network of visionaires, influencers, pioneers and actors in space, entertainment, art and environment.
What should or can we eat on Mars... beyond Matt Damon's potatoes and ketchup (Re: The Martian)? Discover our speculative future culinary culture. Surprises of SuperFood meal and delicious dishes await! (All Vegan and choices of Gluten Free).
Martian Feast 1010 is a 501c3 non-profit Fundraising dinner, to support the Research and Development of Sustainability and climate change consciousness, learning about Mars to take action for Earth betterment. The original Martian dinner is an artistic concept created by Vera Mulyani, along with her selected Chefs and team, powered by Space Channel and Herman Miller!
TICKETS are LIMITED, RSVP ASAP.
DRESS CODE: RED TIE & Martian Cocktail Dress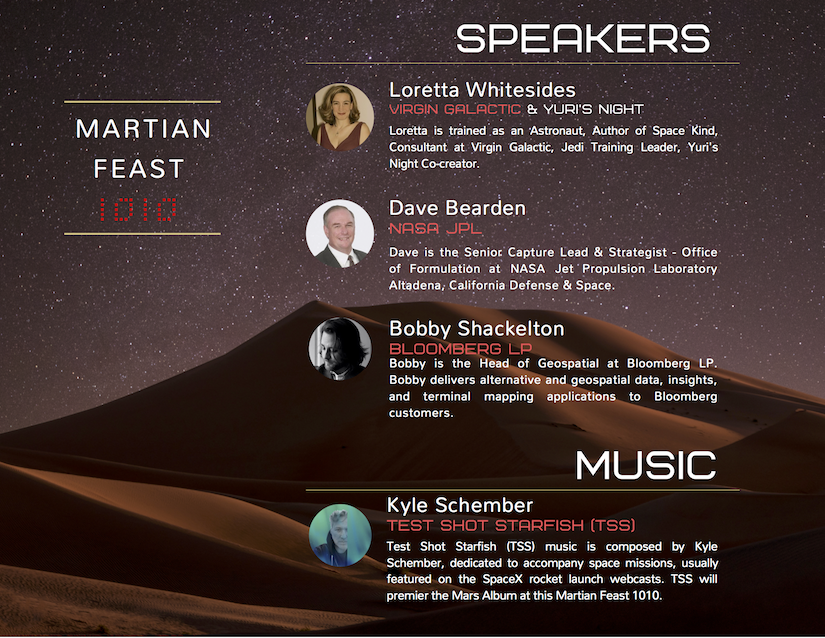 AGENDA:
6:00PM CHECK-IN, VIP Access ONLY & Interview. Mars City Art Exhibition / Silent Auction.
7:00PM CHECK-IN Martian Cocktail, Mini bites Appetizer, Rocket Booster Cocktail.
7:30PM Introduction, Martian Dinner, Mars DJ show (TSS).
8:30PM Speakers, Announcement of the Top 3 Winners of Mars City Design Challenges 2019.
9:30PM Raffle Prize and Phobos & Demos dessert.
10:00PM Back to Earth.
VALET Parking available for VIPs.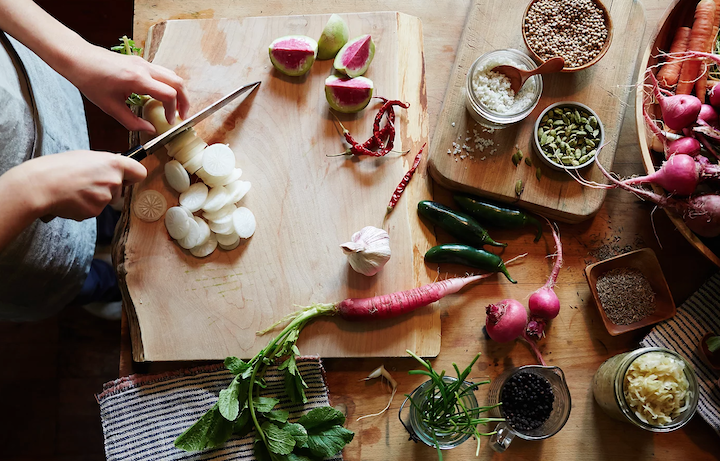 ABOUT OUR CHEF:
Christine Doan is the founder, creator, and Executive Chef of HeartCore Eats.
With over a decade of experience, Chef Doan has been experimenting with food and training among extra-ordinary chefs, including Antonia La Fosa of Scopa, James Trees previously of the Vegas Superba Group, Jason Fullilove of Malibu Pier Cafe and now Magic Castle, Ben Ford of The Ford Station, Ryan Carson of Playground and An Qui, Chef Sam Goldman, mentioned by the late Anthony Bourdain in his book "LA Confidential". From restaurants, to catering, to personal chef, to pop up dinner clubs Chef Doan is an expert of variety of seasonal vegan cooking and presenting global cuisines from Southern Cali to Upstate NY with every and all proteins of the world. "The future is Plantbase and Vegan."-Chef Doan.