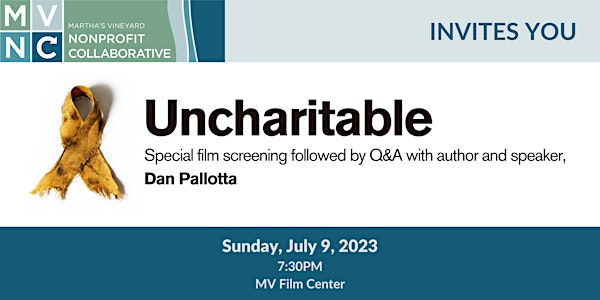 Martha's Vineyard Nonprofit Collaborative Presents "Uncharitable"
Join Martha's Vineyard Nonprofit Collaborative for a special screening of "Uncharitable" and Q&A with author and speaker Dan Pallotta.
By Martha's Vineyard Nonprofit Collaborative
Date and time
Starts on Sunday, July 9 · 7:30pm EDT
Location
Martha's Vineyard Film Center 79 Beach Road Tisbury, MA 02568
Refund Policy
Contact the organizer to request a refund.
Eventbrite's fee is nonrefundable.
About this event
Join MVNC and other Island nonprofit leaders for this unique documentary screening and conversation.
A radically new way to empower nonprofits to change the world...
On July 9th, Martha's Vineyard Nonprofit Collaborative (MVNC) will be hosting a one-time-only screening of Uncharitable at the Martha's Vineyard Film Center followed by Q&A with Dan Pallotta himself. Too many nonprofits, Dan says, are rewarded for how little they spend -- not for what they get done. Instead of equating frugality with morality, he asks us to start rewarding charities for their big goals and big accomplishments (even if that comes with big expenses).
About MVNC:
The Martha's Vineyard Nonprofit Collaborative (MVNC) is the only organization on the Island that seeks to strengthen its 295 registered nonprofits, a community network that is vital to preserving and sustaining the Vineyard that we cherish. MVNC does this by offering workshops, forums, and other programs on the principles of good governance, board development, leadership, collaboration, and fundraising. It also brings together and advocates for the nonprofit community to tackle issues that affect the Island at large. Learn more and support our work: mvnonprofits.org.
About Uncharitable:
Described as "brilliant", "powerful" and "challenging" the movie Uncharitable is changing the way we see nonprofits and their role in society. Inspired by Dan Pallotta's book, Uncharitable, the documentary examines the structure of nonprofit organizations in our society and economy and encourages us to re-think how we prioritize their work.
"This is a brilliant film that builds on Dan Pallotta's decades of work and advocacy to rewire how we think about the non-profit sector. His exposure of the inequity of expectations and resources for non-profits spoke to so many frustrations I've had as a board member. If allowed to operate with new parameters, they could affect change in our society at the scale of corporate giants."
— Kiah Jordan, Founder, Impact Family Office
About Dan Pallotta:
Dan invented the multi-day charitable event industry. He created the Breast Cancer 3-Day walks and the multi-day AIDS Rides, which raised in excess of half a billion dollars in nine years and were the subject of one of the first Harvard Business School case studies on social enterprise. The model and methods he created are now employed by dozens of charities and have raised in excess of $1.5 billion more for important causes from pediatric leukemia to AIDS to suicide prevention and many others. Dan's iconic 2013 TED Talk, "The Way We Think About Charity Is Dead Wrong", has been viewed more than 4.8 million times, and has been ranked one of the 100 most-persuasive TED Talks of all time.