Description
2 Days - 3 Fly Events
All events are in downtown Philly
Friday Aug 2nd // "All White Affair" @Noto Philadelphia - 1209 Vine St ... 9:30pm-2am
Saturday Aug 3rd //"Diamonds & Sundresses" @Golf & Social - 1080 N. Delaware .. 3pm-8pm
Saturday Aug 3rd // "90's Retro Party" @Philadelphia 201 (Hotel Ballroom) - 201 N. 17st (Across from the Convention Center) ... 9pm-1:30am
UPDATE *** It goes down TODAY for the DAY PARTY & BIZ MARKIE 90's Party !!! Tickets will be availablle at the door for both events! We cannot thank you enough for the overwhelming support. Because of the support we had to get a BIGGER venue for the Day Party, (** NEW DAY PARTY VENUE --> Golf & Social Rooftop) Thank you to all the beautiful Ladies from all over the country and the Nupes for your support, Looking forward to a GREAT CONCLAVE. YO!!
GET YOUR TICKETS NOW (Before the Increase!!)
For more updates follow us on IG @1live305 or @SpaseMarketing
Y.I.T.B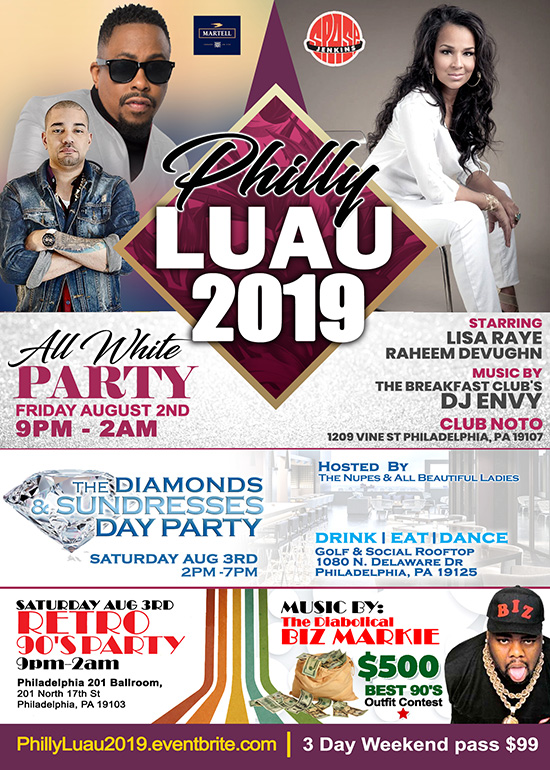 Martell Cognac and Spase Jenkins Present
The 2019 LUAU.. As we WELCOME OUR SMOOTH BROTHERS OF KAPPA ALPHA PSI FRATERNITY INCORPORATED TO PHILLY!!! Our 2-Day 3-Event weekend offers Fun, Fly & Affordable events to Fellowship, Network & Have Fun. We kick it off with our Welcome To Philly "All White Affair".
Friday August 2nd (9pm-2am) This premier All White Party will be Hosted by the smooth R&B artist "RAHEEM DEVAUGHN", The Beautiful Hollywood actress "LISA RAYE" with music by the Breakfast Club's own "DJ ENVY" !! It's all being held at the World Famous 2-story venue, NOTO PHILADELPHIA - located at 1209 Vine st. In the heart of Downtown Philly. This will be an EPIC event of the Who's Who..
Saturday August 3rd (3pm - 8pm) We have our "Diamonds & Sundresses" Day Party. Due to the overwhelming response we partnered with fellow PHILLY Nupes to move our Day Party to the Rooftop of "GOLF & SOCIAL ROOFTOP", located at (1080 N. Delaware Ave, just 10 minutes from downtown Philly) the venue has breathtaking views of the City Line and ample parking (We do suggest Uber or Lyft). Bring your CIGARS as we listen to smooth music, Network and enjoy GOOD TIMES. We are inviting all the Beautiful ladies to join the Nupes as we Eat, Drink & Dance. Golf & Social has a full kitchen and bar
Saturday August 3rd (9pm - 1:30am) We close out the weekend with our vintage look at the "good ole 90's" at Philadelphia 201 Hotel, (Formally the Sheraton Hotel) located at 201 N. 17st, (Across from the convention center) inside the Big Ballroom with our "Retro 90's Party". Bring out the Fat gold chains, Adidas sweatsuits, Furry White Kangols, Cazel glasses & Airbrushed overall's, as we enjoy R&B & Hip Hop from the 90's to current, with music provided by the Legend & Diabolical "BIZ MARKIE"!!! Win some CASH & enter our "$500 Best 90's" outfit contest at the event as well. Good fun and Good times as we say our Goodbyes till next Klave. This party is dedicated to all the lines that crossed in the 90's
For any further questions please call 305.986.3926..
_________________________________________
Dress Attire: Friday - All White .. Saturday - (Day Party) Clean & Comfortable ... Saturday - (Night Party) // 90s attire (NOT mandatory but preferred)
*NO REFUNDS
*ALL EVENTS ARE 21 AND OVER
*We reserve the right to refuse admission into any event,
due to unclean appearance.
*For any further questions, please call 305.986.3926
BLESSINGS+
#SpaseJenkins
#martellcognac
Organizer of Martell Cognac Presents Philly Luau 2019