Description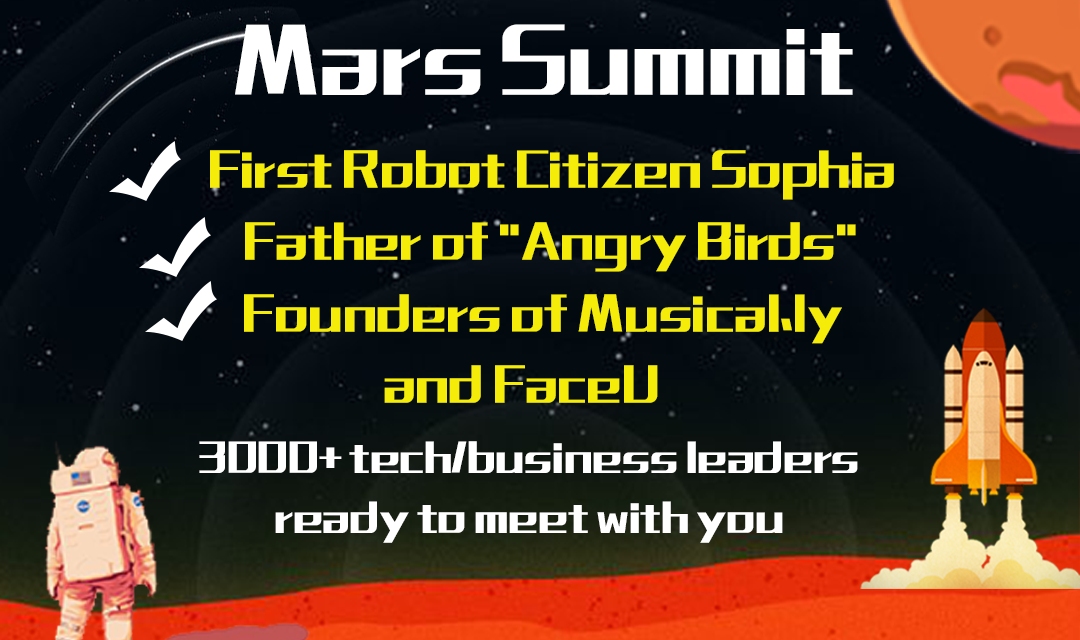 Mar Summit
—— "This is the must-attend conference for anyone interested in marketing to Chinese audiences"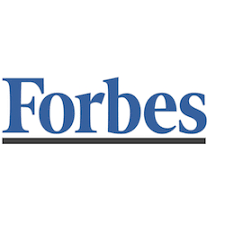 With more than 3 000+ tech and business attending, Mars Summit brings together some of the world's best tech leaders and leaders from other industries so they can learn and do business with each other.
"One of the best thing young people can do is to go to conferences like this"
----Steve Wozniak (Cofounder of Apple) On Mars Summit
What can you expect from Mars Summit?
1. Make deals with some of the biggest tech companies in the world as well as the most exciting startups.
2. Learn where the future holds face to face with the best leaders of our time
Who should attend?
Mars Summit is a conference, but we'd love to have you look at it as a marketplace, if your goal is to find the right customers, startups, investors or partners in the global technology and business community, Mars Summit is built for you.
Confirmed Attendees :
郭列Lie Guo,CEO FaceU & Lianmeng
No.1 Photo taking app in China
Sophia,AI robot in Hanson Robotics,First robot with human ID
A Robot with Saudi citizenship and plans to have kids.
Ben Goertzel, Chief scientist of Hanson Robotics,create Sophia
Ben is also the chairman of Artificial General Intelligence Society and is now building Singularity ne,t a blockchain-based AI marketplace that hundreds of millions of money has been confirmed to be invested in.
Louis Yang,Founder of musical.ly
Founded one of the top 5 social app in the west, musical.ly is frequently used by David Beckham and Ariana Grande.
Adrian Kaehler, Co-founder of Open CV
One of the most important thing in computer vision industry
Peter Vesterbacka, Co-founder of Rovio (Angry Bird), Co-founder of Slush
As one of the most-successful brand in the world, Angry Bird has more than 3 billion user in the world
袁炳松Bingsong Yuan, CEO of Haidian Company
Haidian The first portable charging startup in China, it raised 20 million USD earlier this year.
丁达贤Daxian Ding, Co-founder of Uncle Tongdao, CEO of Zhishusang
Uncle Tongdao is an online media sold for 300 million RMB
Kalle Vähä-Jaakkola,Co-founder & CEO of Space Nation Space Nation
Space Nation will send one of its users to space every year.
李天驰Tian Chi Lee,Co-founder of Codemao
Codemao is the No.1 coding school for kids in China
李清泉Qingquan Li,President of Shenzhen University
The university Tencent founder graduated from
谢耀辉
John, Founder&CEO of Huodongxing
Huodongxing is the No.1 event platform in China.
熊友军You Jun Xiong, CTO of Ubtech.
The No.1 consumer robot startup in China, valuation at 5 billion USD.
Mingles Tsoi,CXO of ParticleX,Ex-Director of Startup & Innovation Services for KPMG China, AIESEC Alumni Association of Hong Kong
张博辉BohuiZhang,Presidential Chair Professor of Shenzhen Finance Institute
Benjamin Carlu, Co-founder of USINE
Dennis Wong, Partner/CEO of Master Concept
Minesh Pore, Head of Startup Launchpad
Jerry Yang, General Partner at the Hardware Club
赵剑海Jianhai Zhao, Co-founder of Haipeng Capital, Former VP of IDG
林照围Ethan Lin, Co-fornder & CEO of KLOOK
Fritz Demopoulos, Co-founder & Fomer CEO of Qunar, Founder of Queen's Road Capital
李世庚Steve, - CEO of NEM.io Foundation China Chapter
徐平Ping Xu, CEO of Youdianniu
李倩零Qianling Li, Founder of Youqingxu.
Yakut Ali Serdar, Chief Corporate Development and IT of Turkish Airline
Serdar Gurbuz, Manager of Digital Innovation of Turkish Airline
李亚平 Yaping Li,CEO of Ciweishixi Company
陈传洽Calvin Chan, COO of ADmaster
阳陆育Louis Yang, Founder & CEO of musically
许培桢Peizhen Xusuper, CEO of SuperD
苏法Fa Su, VP of SuperD
张宏Hong Zhang,VP of EHANG
贾珂Ke Jia, Partner of Chuangheng Invetsment Copmany
虞晓毅Xiaoyi Yu, Partner of Tongue Movie
Julien de Préaumont, Head of Marketing, Nokia Digital Health, Asia
孙银Yin Sun, Multimedia global marketing director of TCL
雷磊Lei Lei, Co-founder of Haomaiyi company
More will be announced soon...
Night Summit & Network Party
Mars Summit and Ahaa, La French Tech, Startupgrind are partnering up to gather up the best minds and celebrate French Tech community one-year anniversary in Shenzhen.
We'll host a networking event from 7pm-9pm at the Mars Summit venue.
Music / Drinks/ Network, Let's rock the Shenzhen Night!
@La French Tech is a global community of entrepreneurs, startups, innovation leaders with presence in 32 cities across America, Europe and Asia.
About Price
99USD
Pass to 3 Stages/ Pass to all Exbitions and workshops / Lunch in event
300USD
VIP Front Seat For 3 Stages/ VIP Entrance / VIP Lounge / Pass to all Exbitions and workshops / VIP Dragon Dinner (with all speakers and key partners) / Lunch in event
700USD
Dinner with the speakers
Some of our partners
Tencent; HUAWEI ; DiDi; PWC; P&G ; Walmart; HSBC; DJI
About Shenzhen:
Shenzhen is located in the Greater Bay Area, an area with a reach of more than 65 million within an hour drive and a 3 times higher GDP than Silicon Valley (1.36 trillion USD) and the home base of the biggest Tech Company in Asia (Tencent), the biggest Telecommunication Company in the world (Huawei) and the biggest Drone Company in the world (DJI). On top of that, hundreds of thousands of tech startups found Shenzhen home.
According to the World Economic Forum, Asia-Pacific Region's middle-class is going to take up 66% of the world's middle-class population by 2030. India, China, and Indonesia alone is going to have more than 1.5 billion middle-classes by then. Shenzhen, which has similar distance and is one of the top tech centers in Asia, deserves your attention and time.
Shenzhen is a special economic zone, what means that majority of the passports are able to get a visa on arrival (5 days) at the border when entering via Hong Kong
Transportation & Access from Hong Kong (1h30min)
If you have a Chinese visa:
Bus from Hong Kong Island (Causeway Bay & Wan chai) to Shenzhen Bay Port
Price: HKD 50

Duration: 1 hour
For details click here
Boat from Hong Kong Macau Ferry Terminals to the Shekou Port is closer and at the a slightly higher price.
For details click here
Then get a taxi to the conference spot:
Price: HKD 30

Duration: 20


If you do NOT have a Chinese visa:
Shenzhen is a special economic zone, that means that a majority of the passports are able to get a visa on arrival (5 days) at the border when entering via Hong Kong.
Venue Address in English and Chinese:
8 Haiwan Rd, Nanshan Qu, Shenzhen Shi, Guangdong Sheng, China

深圳市南山区海湾路8号价值工厂. (Can show the driver this)
Here: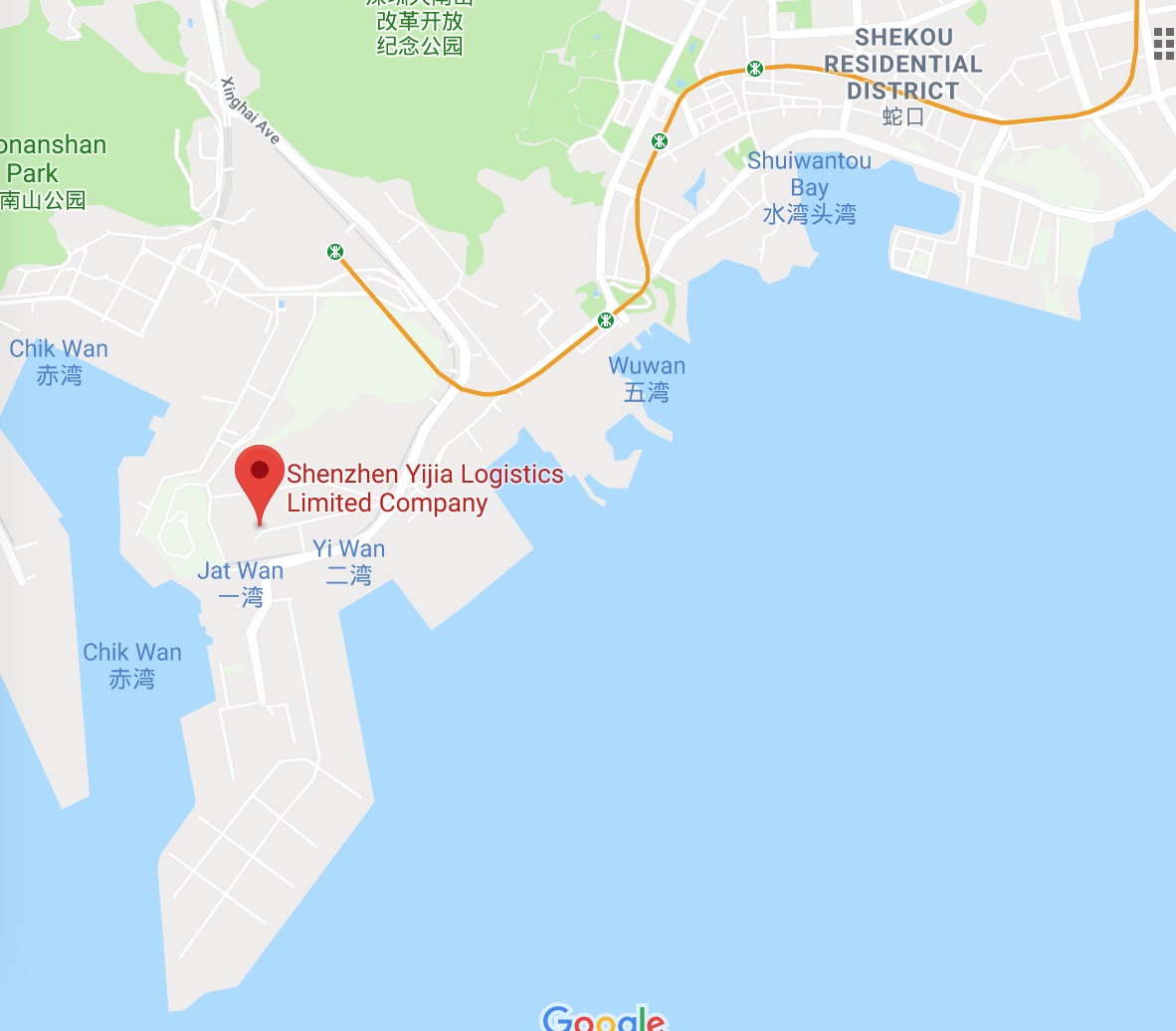 Contact Us :
Phone:+86-17310230927
WeChat: jiaohui7187
Email: linda.jiao@marssummit.cn;