Description


The Theme of this year for Mars City Design Challenges 2019 is:
MARS SPORTS
Mars City Design® invites visionaries, thought leaders, innovators from all disciplines to unite and participate in designing most relevant ideas, projects or business opportunities focusing on what we can imagine as MARTIAN SPORT GAMES.
This category will question the human's next level of physical wellness, extra-ability and performances, which invites sub-categories as listed below:
Architecture design Mars Olympics Stadium

Robotics

Exoskeleton design

AI

Organ 3D Printing

Human physiology

Supplements for space travelers

VR/AR

Cyborg

Other Category

All designs must respond to the real physical and mental challenges of Martian environment. To learn more about them, please go to NASA's "All About Mars" and Space Architect's Website for FAQ about Mars FACTS.

3 selected Winners of this 2019 Challenges PRIZE:
Exposure at NASA Johnson in Houston,TX Exhibit open to public.

Exposure at the London Design Museum Exhibit open to public.

Access to PowerLab Workshop, Learning Marschitecture, value of $3,000+ per team

Exposure to their brand product associated with Mars City Design®.

Mars City Design® professional networks.

Become part of Mars City Design® Marschitect team to build selected design prototypes.

VIP Access to Mars City Design® Gala 2019.

Create legacy for designing the future human history.

NOTE: Other details will be provided
exclusively for those who are officially registered.
CALENDAR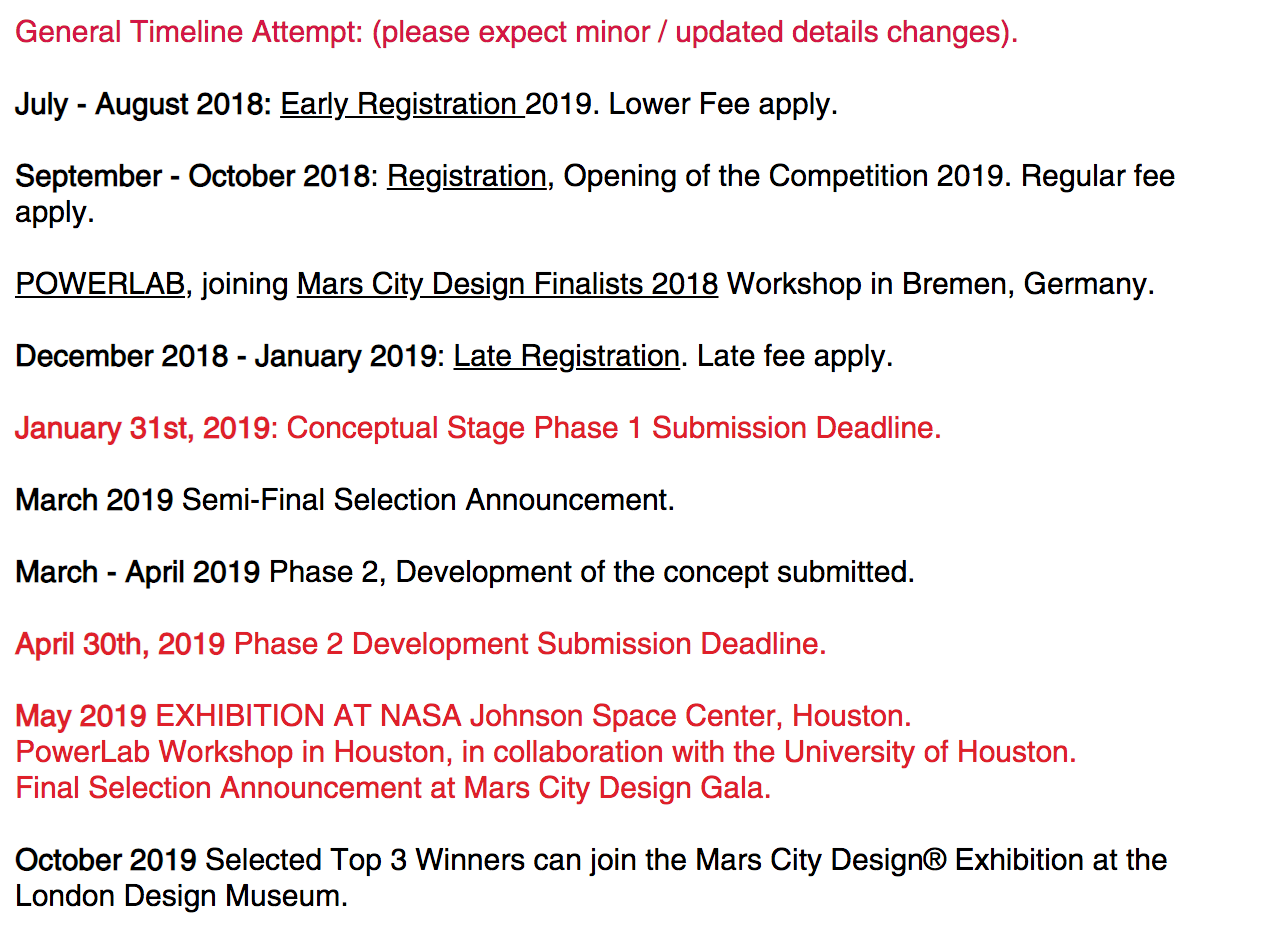 ​More details: https://www.marscitydesign.com/competition-2019
Mars City Design® thanks our SPONSORS and PARTNERS:

Date and Time
Location
Refund Policy