Mars Day on the Hill - September 24, 2013

Tuesday, September 24, 2013 from 8:00 AM to 5:00 PM
Event Details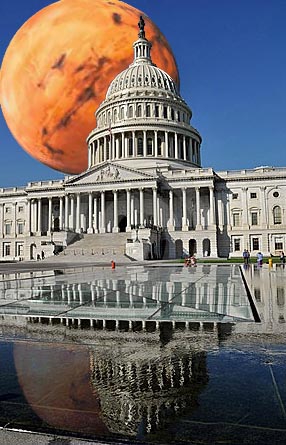 Explore Mars, Inc. will be holding a grassroots visit to Congress, known as "Mars Day on the Hill", in Washington, D.C. on Tuesday, September 24, 2013.
As demonstrated by a recent national public opinion poll commissioned by Explore Mars, Inc., the Boeing Company, and Philips & Company, there is broad support within the
United States
for both human and robotic missions to Mars. However, the challenges that sequestration and other budgetary obstacles present for NASA are many.
In the current economic and political climate, it is essential to let our elected representatives on Capitol Hill know that there is strong constituent support for our civil space program and for an ambitious yet sustainable path forward.
Organizer
About Explore Mars, Inc.: Explore Mars, Inc. is a 501(c)(3) non-profit corporation created to advance the goal of sending humans to Mars within the next two decades. To further that goal, Explore Mars, Inc. conducts programs and technical challenges to stimulate the development and/or improvement of technologies that will make human Mars missions more efficient and feasible. In addition, to embed the idea of Mars as a habitable planet, Explore Mars, Inc. challenges educators to use Mars in the classroom as a tool to teach standard STEM curricula. For more information, please visit www.exploremars.org/ .