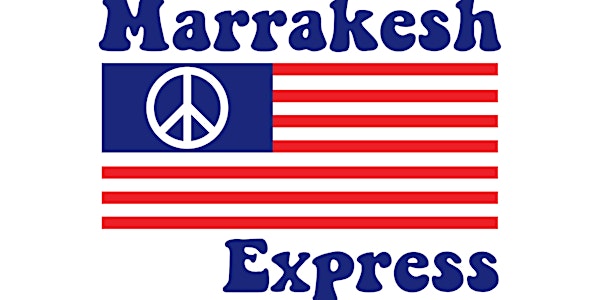 Marrakesh Express
A Crosby, Stills, Nash & Young Experience
When and where
Location
Uptown Social 907 Franklin Street Michigan City, IN 46360
About this event
6:00 PM: DOORS - Come Warm Up Shelf Ice Attendees!! Cocktails and Music!
8:00 PM: SHOW
"Marrakesh Express is a Crosby, Stills, Nash, & Young tribute, but they do not imitate as much as they capture the spirit of. They are an organic, real band, with their own distinct personalities that shine through (often humorously) in their rapport with the audience. Their harmonies are gorgeous. They're great people -- fun and energetic. They are the most original tribute band I've ever seen." ~ Mark Schmidt, Casino Regina
There are hundreds, if not thousands of tribute bands performing the music of the Beatles, Rolling Stones, AC/DC, Led Zeppelin, U2, and other monsters of rock. But Crosby, Stills, Nash, & Young? Next to none.
A band dedicated to tributing CSNY is unheard of due to the difficulty in replicating the 3- and 4-part vocal harmonies that made the group international superstars. Marrakesh Express excels at reproducing their complex songs and cascading, layered harmonies. The band takes the audience back to the late 1960s with musicians who bring an authentic hippie vibe and visual to the stage.
CSNY was arguably the biggest band in the world after the demise of the Beatles, and is one of the most enduring and influential musical groups of all time. The band, born in the turbulent years of the late 1960s, released hit after hit that spoke directly for their generation. Their songs remain in heavy rotation on classic rock radio stations to this day.Marrakesh Express upholds the integrity of that music with their vivid and realistic performance of CSNY's most recognizable songs. Featuring four harmonizing vocalists backed by a top-flight band, they deliver a unique and energetic concert performing the classic acoustic and electric CSNY hits, deep cuts, and fan favorites.
Marrakesh Express has played to tens of thousands of appreciative fans at music festivals, theaters, fairs, performing arts centers, and casinos, including the Woodstock 40th Anniversary Tribute Concert. The music of CSNY has stood the test of time and fans of the classic rockers, as well as young people who are curious about "the 60s," are anxious to venture out to hear it represented live.
Refund policy: No refunds or exchanges. In the event of a cancellation, refunds will be issued.
WAIVER OF LIABILITY AND ASSUMPTION OF RISK: All attendees, by purchasing a ticket and/or attending the event, agree to assume all of the risks, hazards and dangers that may arise from, or relate in any way to, the risk of contracting a communicable disease or illness whether occurring before, during, or after the event, however caused or contracted. Therefore, anyone who purchases a ticket and/or attends the event, hereby waives any and all claims against Uptown Theater, LLC. (Uptown Social) the artist, and/or all related sponsors relating to all risks of personal injury, sickness, permanent disability and/or death.