Location
"UP LOUNGE"
150 Pine Street Northeast
Atlanta, GA 30308
United States
Description
Atlanta-based/Independent Artist, 12th Street Pharmacist, will be holding his first concert September 15th, 2018 at "UP LOUNGE" (150 Pine Street NE, Atlanta, GA 30308). After the release of "Come Get Some Bars" and "Ice Breaker Jacket", the new pop-star is ready to perform his most popular songs and release his new album to the world; starting with the city he originated from. Come join the CGSB Tour, experience a new wave of music & get an exclusive preview of the new album: Scrumdiddlyumptious.
***LYFT CODE WILL BE PROVIDED TO TAKE OFF 20% UP TO $5 OFF YOUR LYFT RIDE. (We recommend that attendees utilize Lyft for parking purposes!)***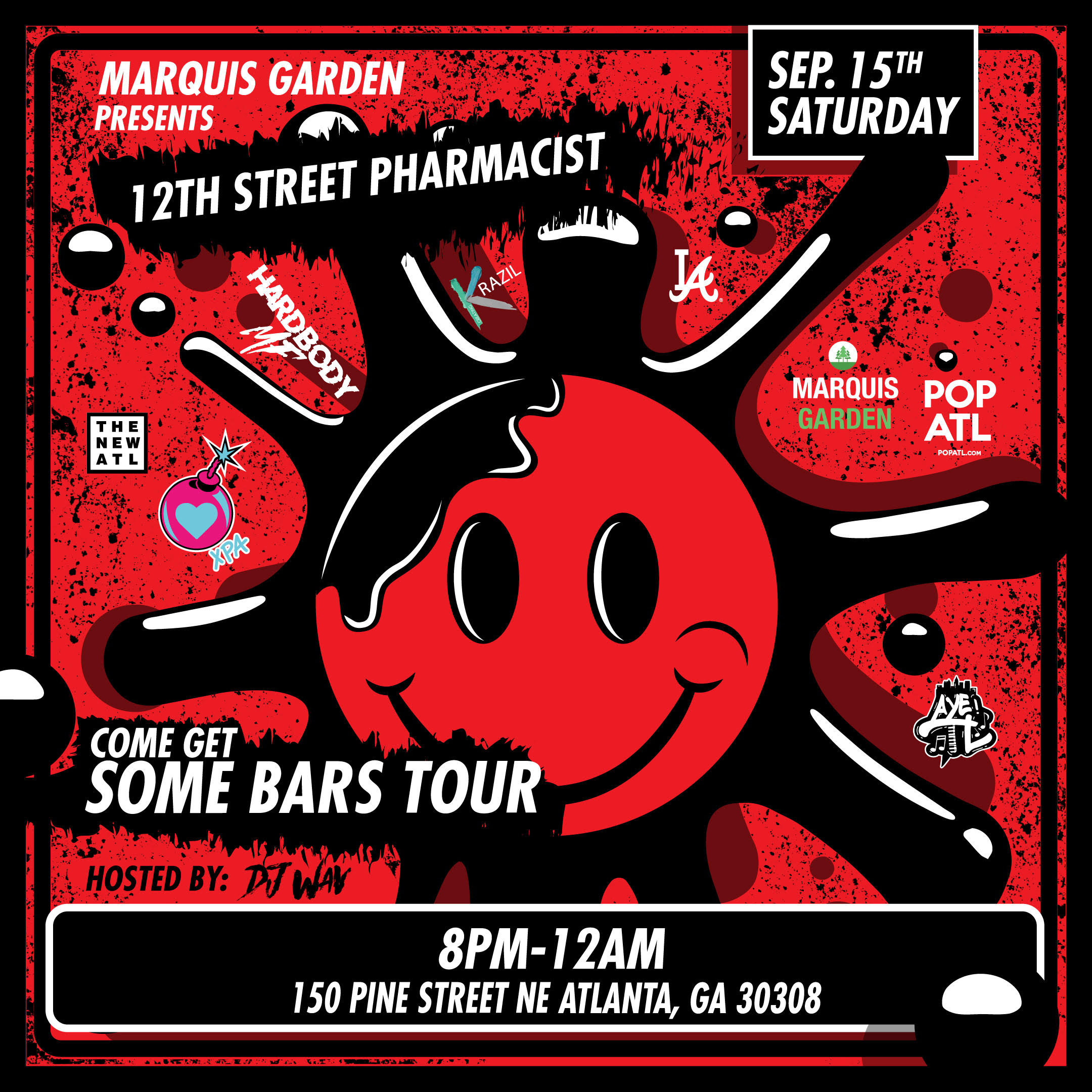 SPONSORS:
MARQUIS GARDEN MEDIA | @marquisgarden.media
XAVIER PERRY ART | @xavierperryart
TLONTHEBEAT | @tlonthebeat
CREATING KRAZIL | @kimrazil
LYFT
DUTCHMASTERS
INK MOB | @inkbykali
HARDBODY MF | @hardbodydriqq
DJ WAV | @djwav
POP ATL | @pop_atl
WE ARE THE NEW ATLANTA | @milanamani
FAQs:
What will my ticket include?

FREE ENTRY to the CGSB Tour, SNAPCHAT FILTER, FREE TShirts to the FIRST 25 GUESTS AND FREE ALCOHOL.
Your ticket will include all access into 12th Street Pharmacists OFFICIAL CGSB TOUR!


Do I need to bring anything with me?

Please bring a copy of your ticket, photo ID & we encourage you to come early to take advantage of all the FREE merchandise and a great spot before the concert begins.


What is the refund policy?

There is a No Refund Policy. This is a free event! If you are unable to make it, please email us to notify our Team so that we can make your ticket transferable to someone else who can enjoy (create@kimrazil.com).


Will there be alcohol during the event?

Yes, there will be alcoholic beverages served during the event. Proper ID is required before it is served.


Are media passes available?

Yes, please email us at create@kimrazil.com.


How do I become a sponsor for the event?

Email us at create@kimrazil.com and find out more information about becoming a sponsor.