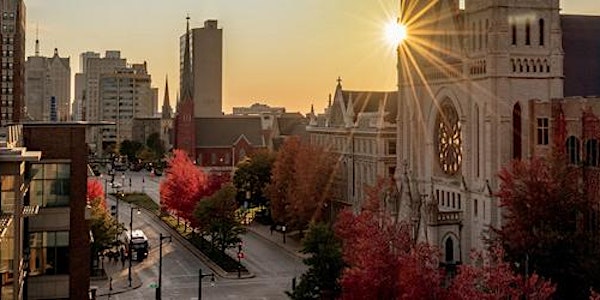 Marquette's Symposium on Diversity, Inclusion, and Social Justice
Event Information
Location
Virtual
Event
Milwaukee, WI 53233
"Spaces for Healing, Spaces for Action"
About this event
Each spring, the University Committee on Equity and Inclusion hosts the Symposium on Diversity, Inclusion and Social Justice. Launched in 2019, this symposium serves as an "institutional examen" – a time to look inwardly at who we are and who we are called to be. In a dialogic process, we explore discrimination at the intersections of race, gender and sexuality, discuss how we are working to address these issues, and offer a vision for the future of equity and inclusion at Marquette. The purpose of the university, and especially the Jesuit university, is to be a convener of difficult conversation and a leader for social justice action. As such, this forum helps prepare us to have challenging intellectual discourse and refresh our values as an institution.
This year's symposium will take place virtually on April 16, 2021 and will focus on the theme of Spaces for Healing, Spaces for Action. In this time of strife, violence, and disease, the unjust structures of our society have been laid bare and existing inequalities have been exacerbated. We need to acknowledge the trauma that many members of our community are experiencing, focus on the well-being of our bodies, minds, and spirits, and heed a call to act – to work toward greater equity and justice in our institution and community.
We invite all faculty, staff, students, alumni, community members, and other campus stakeholders to take part in the conversation. Please come for all or part of the day as your schedule permits!
SYMPOSIUM OUTLINE:
8:30-9:50am – Welcome, Opening Panel: "Holding Ourselves to Account: Who We Are and Who We Strive to Be"
Please join us as we explore our obligations as a Jesuit institution to work toward greater equity, plunging into the tensions between who we are and who we ought to be. Dr. William Welburn, vice president for inclusive excellence, will provide some institutional context, followed by a moderated panel discussion with faculty of color around their stories, experiences, and hopes for Marquette:
Dr. Simon Howard, Assistant Professor, Psychology
Dr. Samantha Majhor, Assistant Professor, English
Dr. Kevin Thomas, Assistant Professor of Multicultural Branding, Strategic Communication
Dr. Julissa Ventura, Assistant Professor, Educational Policy
10:00-10:50am – A Space for Healing
This session acknowledges that social, economic, and political circumstances have done real harm to minds, bodies, and souls. We recognize this trauma but also work to move through it with strategies for self-care. Join guest speaker Venice Williams, executive director of Alice's Garden, for strategies for coping and a message of hope.
11:00am-11:50am – A Space for Action
As we are living in a time of multiple crises on both a national and institutional level, how are we called to respond? What can we do to disrupt problematic policies, practices, and behaviors within our own spheres of influence? Join this panel discussion moderated by Dr. Abiola Keller, Assistant Professor of Nursing, to learn from these student-leaders who have made a meaningful impact in our campus community:
Breanna Flowers, president of Black Student Council
Alex Liberato, president of the Native American Student Association
Aimee Navarro-Villegas, BA'20, former student chair of the Dreamers Gala
Noreen Siddiqui, graduate student in the College of Education and creator of the Backpack Program
11:50am-12:30pm – Quiet Reflection
Tune in to spend some time in quiet reflection on the morning's programming. Background music and reflection questions will be provided.
12:30pm-1:15pm – Yoga with Dr. Crear
Replenish your bodies and spirits with this gentle yoga session! Led by Dr. Joya Crear, assistant vice president for student affairs.
1:15pm-2:00pm – Closing and Debrief
Join Tyanna Clayton-Mallett, assistant director of the Service Learning Program, and Dr. Monique Liston, instructor in the Trinity Fellows Program, in an interactive session to process the programming of the day. The session will end with spiritual libations to the Creator and to our ancestors to assist us on our journey.
Date and time
Location
Virtual
Event
Milwaukee, WI 53233