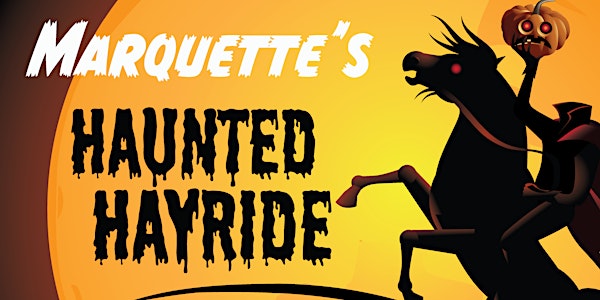 Marquette's Haunted Hayride 2022 - October 13th, 14th, and 15!
Marquette's Haunted Hayride is a tractor drawn hayride which weaves through the Marquette County "Scare"grounds. Three Scary Nights!
When and where
Location
Marquette County Fairgrounds 715 Michigan 553 Gwinn, MI 49841
About this event
MARQUETTE HAUNTED HAYRIDE RULES
By clicking the "Purchase Tickets Below" below and participating in the 2021 Marquette's Haunted Hayride, you must follow the following:
Agree that the Marquette County Fairgrounds and Marquette Haunted Hayride volunteers are not responsible for any loss, damage, injury or sickness during your visit.
Make sure items such as keys, phones, cameras, etc. are stored safely while on the hayride. These are the most common lost items. Video and pictures are prohibited while the hayride is moving.
You must remain seated during the entirety of the hayride. Touching, kicking, spitting, throwing of items, or any other action that could inflict harm on the actors is strictly prohibited, will have you banned from future rides, and may result in legal action.
The use of alcohol while in the Marquette County Fairgrounds is prohibited, including parking lots and in line.
Those who purchase tickets online MUST show proof of purchase to get in. This means the email with QR code to scan at the door. We recommend taking a screen shot as sometimes reception is poor. This may also be printed to use. All members of your party must be with you during check-in.
Thickets are non-refundable, including inclement weather. This is a fundraiser for area youth and nonprofit groups.
We at the Marquette Haunted Hayride care for our community and volunteers, and want all of our patrons to scare safely this year, and every year. Masks are not required but we encourage you to please wear one and be safe by keeping a coffin-length (or 6ft) distance from other parties in line. Rest assured that we are taking precautions we can for our beautiful community and we ask that you do the same.