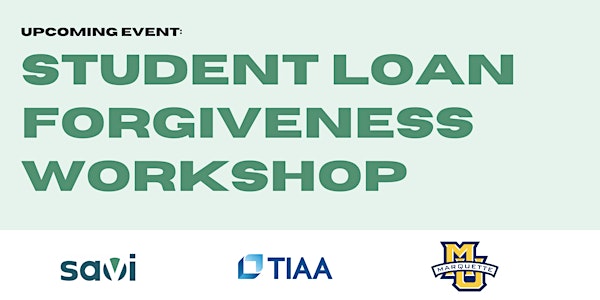 Marquette University: Student Loan Forgiveness Workshop| powered by Savi
Join this live session and Q+A with student loan experts to learn how you could qualify for student loan forgiveness with expansive changes.
About this event
Until October 31, 2022, the Public Service Loan Forgiveness (PSLF) Limited Waiver provides temporary expansions to the PSLF program that has already benefited over half a million borrowers and wiped away the entire debt of over 150,000 (and counting) borrowers.
Join this webinar to find out how you can check your eligibility under these new regulations before they expire. Be sure to bring your questions for our student loan experts!
In the meantime, you can visit www.marquette.bysavi.com to learn more about the Savi Student Loan Repayment Tool and read about these new changes.
*By electing to participate in this webinar you are agreeing to the terms of our Privacy Policy.