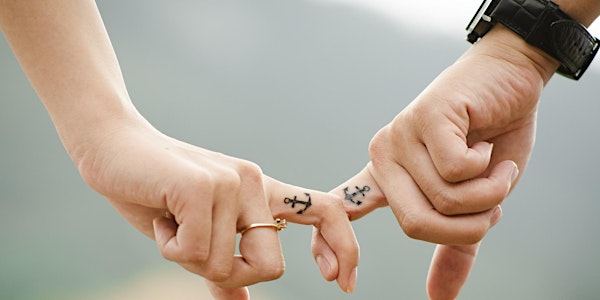 Marquette Method NFP Training for Couples / Enseñanza del Método Marquette
Marquette Method NFP for Couples
Refund Policy
Contact the organizer to request a refund.
Eventbrite's fee is nonrefundable.
About this event
Thank you for your interest in the Marquette Method for NFP. 
These tickets are for couples who agree to work with a MM teacher. This is a three-step process.
What you get - Access to the online instruction course, ability to meet with a teacher in a group setting and one-one instructions with a professional nurse and MM teacher.
1. First purchase a ticket for either:
Engaged couples instructions - this includes a virtual class, a one-one meeting with a MM teacher, and a certificate of completion.
Consultation instructions - this is a one-one meeting with a MM teacher. Couples interested in learning more about the method are encouraged to sign up for a class prior to the one-one meeting with the MM teacher.
Full six months instructions - This is for women/couples who want to learn the MM and work with a MM teacher for 6 months. This includes women who are postpartum and/or postpartum breastfeeding.
NOTE: These tickets are a place holder, to attend an event with a teacher please go to the next step (section 2)to learn which class is right for you and continue your registration.
2. Second sign up for a class using the links below.
Postpartum breastfeeding and/or postpartum class see the calendar for available times.
Women who are in regular or irregular cycles and/or engaged women/couples not breastfeeding see the calendar for available times.
Note: Eventbrite tickets and the calendar are not the same systems. You must sign up for a class in the calendar links after purchasing a ticket this is how you receive a link to the online class. There are no links to classes through the Eventbrite site.
If you are not able to attend a class you can move to another date when that class is offered. However, we ask that you contact susana.1.crespo@marquette.edu if you are registered for the class and are rescheduling.
3. Third complete the two registration forms below, completing both of the forms are important because this triggers your registration. Registrations are processed every Thursday or Friday unless these days fall on a holiday. If you register on a holiday your order will be processed the following business day.
4. You will receive an email once you have completed the steps above with more information about the online course. All couples are asked to complete online course instructions.
We always recommend you work with a local teacher. To see who might be in your area go to the Marquette Method Teacher Directory. DO NOT purchase a ticket here if you are going to work with a teacher in the directory.
~~~~~~~~~~~~~~~~~~~~~~~~~~~~~~~~~~~~~~~~~~~~~~~~~~~~~~~~~~~~~~~~~~~~
How can I contact the organizer with any questions and when do orders get processed?
Email - muinstnfp@marquette.edu
What's the refund policy?
Refunds are not available once you've been given access to the online instruction course or have taken a class.  Eventbrite processing fees are not refundable.
~~~~~~~~~~~~~~~~~~~~~~~~~~~~~~~~~~~~~~~~~~~~~~~~~~~~~~~~~~~~~~~~~~~~
Método Marquette de PFN para parejas
Acerca de este evento
Gracias por su interés en el Método Marquette para la PFN.
Estos boletos son para parejas que aceptan trabajar con un instructor del MM. Este es un proceso de tres pasos.
Primero compre un boleto para cualquiera de los siguientes dos servicios:
• Instrucciones para parejas comprometidas: esto incluye una clase virtual, una reunión individual con un instructor de MM y un certificado de finalización.
• Instrucciones de consulta privada: esta es una reunión individual con un instructor del MM. Se recomienda a las parejas interesadas en aprender más sobre el Método de Marquette inscribirse en una clase antes de la reunión individual con el maestro de MM.
Instrucciones completas de seis meses: Esto es para mujeres/parejas que desean aprender el MM y trabajar con un maestro de MM durante 6 meses. Esto incluye a las mujeres que están posparto y/o amamantando después del parto.
En segundo lugar, inscríbase en una clase usando los enlaces a continuación.
• Lactancia posparto y/o clase de posparto consulte el calendario (clase ingles) para conocer los horarios disponibles.
• Parejas comprometidas, mujeres/parejas que no están amamantando, consulten el calendario (clase ingles) para conocer los horarios disponibles.
Complete los dos formularios de registro disponibles al final de esta página, debe completar ambos formularios es importante porque de esta manera se activará su registro. Las inscripciones se procesan todos los jueves o viernes a menos que sea un día festivo. Si se registra en un día festivo, su pedido se procesará el siguiente día hábil.
2. Formulario de Salud y fertilidad
Siempre recomendamos que trabajen con un professor local. Para contactar un instructor en su localidad, vaya al Directorio de Instructores del Método de Marquette.
~~~~~~~~~~~~~~~~~~~~~~~~~~~~~~~~~~~~~~~~~~~~~~~~~~~~~~~~~~~~~~~~~~~~
¿Cómo puedo contactar al organizador si tengo alguna pregunta y cuándo se procesan los registros?
Correo electrónico: muinstnfp@marquette.edu
¿Cuál es la póliza de reembolso?
Los reembolsos no están disponibles una vez que se le haya dado acceso al curso de instrucción en línea o haya tomado una clase.
Las tarifas de procesamiento de Eventbrite no son reembolsables.
¿Preguntas?
Contacto - susana.1.crespo@marquette.edu