2-day Zoom Workshop. Learn to use marls to add visual interest, create unique fiber blends, and make extraordinary multi-color pieces.
About this event
Tuesday, March 2, 2020 (day 1), 9:00am-11:00am and Thursday, March 4, 2020 (day 2), 9:00am-11:00am
Holding strands together, aka making marls, is a wonderful way to create striking handknits. Knitters of any level can use marls to add visual interest, create unique fiber blends, and make extraordinary multi-color pieces. This virtual class will cover why marls have such a distinctive look, simple color theory for marls, tips for managing multiple balls of yarn, and prototyping pieces with microswatches.
You can choose to follow along and make your own microswatches between the two sessions if you desire. A pattern will be provided to make your own multi-color Ella Improv Cowl (the pattern will be given to each student through Ravelry (https://www.ravelry.com/patterns/library/ella-improv) or via email if preferred ).
Membership Requirement: This workshop is for Textile Arts Council members only and up to one paying guest of a TAC member. Please note you may join TAC after signing up for the workshop.
Skill level: Advanced beginner and beyond. Students will only have to cast on, knit, purl, and cast off.
Homework: There is no required homework before the first class, but students are encouraged to do the optional homework between the two classes.
Materials: You are welcome to use your own yarns. Complete material kits will also be available prior to the classes from Uncommon Threads in Los Altos for $85.
You will need approximately 40 yards of six colors of the same kind of yarn and needles suitable for the yarn to be worked doubled. Heavy lace weight yarns are ideal because they work up between sport and DK when doubled. For the class, I will be using Ito Kinu doubled, which is the yarn for the Ella Improv Cowl. Ito Kinu is a Japanese silk noil heavy-lace yarn that comes in over 40 colors. Doubled and worked on a US4 (3.5 mm), it works up as sport weight and makes a lightweight fabric ideal for warm climates.

Cecelia Campochiaro appeared on the knitting scene in 2015 with her debut book, Sequence Knitting. Knitting was a causal pastime until she had an ah-ha moment in 2010 and realized that interesting textured fabrics could be created by the simple repetition of a sequence of stitches. This idea evolved and led to her writing Sequence Knitting, a reference book about this mindful approach to knitting. Cecelia's recently published book, Making Marls, presents an insightful and systematic approach to combining yarns to achieve exciting, beautiful, yet simple color impact in your knitting.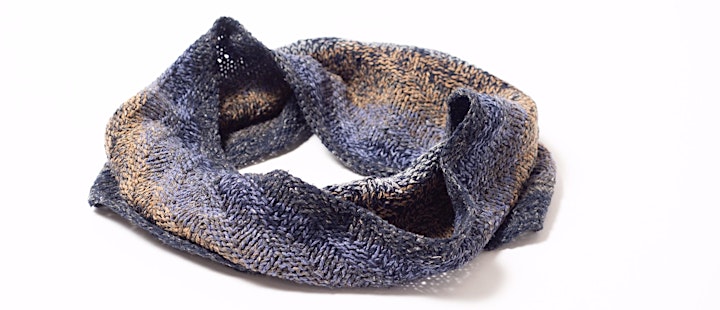 Date and time
Location
Refund policy
Organizer of Marls as Colorwork in Hand Knitting
MISSION
We are a support group of the Fine Arts Museums of San Francisco with the goal of advancing the appreciation of the Museums' textile and costume collections. We are a Bay Area forum that provides lecturers, workshops, events and travel opportunities for artists, designers, aficionados and collectors of ethnic textiles, rugs, tapestries, costume, and contemporary fiber art.