About this Event
Marlon Craft is a hip-hop artist from Hell's Kitchen, New York City. The 26-year-old New York City MC offers an essential mix of new school oxygen and golden era sensibilities. After making waves in the Big Apple's underground scene, Marlon emerged into the spotlight in 2019 with his debut album, Funhouse Mirror, with standout singles: "Shallow" featuring Dizzy Wright as well as the controversial "Gang Shit" addressing institutional racism in America, of which T.I., Killer Mike, Shaun King and more took notice and continued the conversation. Leading with his pen, Marlon combines technical skill with timeless (and often live) musicality to give his music purpose, dimension, and emotional resonance. After sold out shows in NYC (SOBs) and Los Angeles to mark the success of the album, Marlon is headed back on the road in 2020 with a multitude of new music scheduled to release.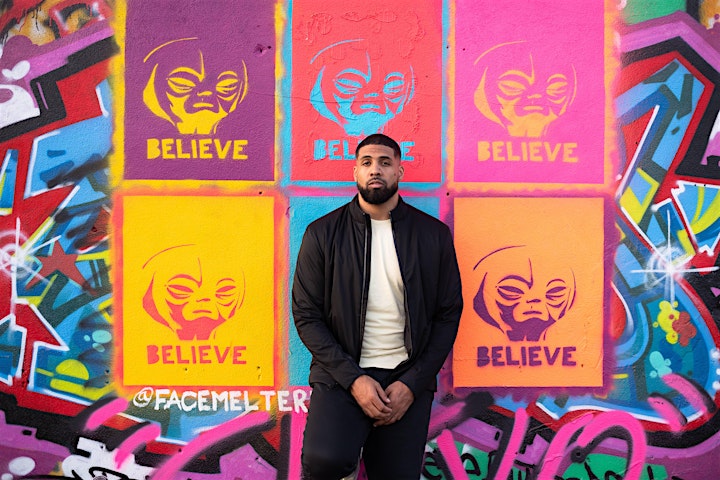 Bobby Feeno.
In 2016, Arian Foster retired from the NFL on a high note. He was a star four-time Pro Bowl running back, known for his epic Namaste bow that doubled as his victory dance whenever he scored a touchdown. Now he's Bobby Feeno, critically acclaimed musician, though that musical trajectory was tightly woven into his narrative long before he ever picked up a football. As Bobby Feeno readies his Mass Appeal debut EP, Late February, he continues to build upon his solid music career, as he's headed for stardom.
Music has always been instrumental in the life of Bobby Feeno. The Albuquerque, New Mexico native was raised on a healthy diet of diverse vinyl from both of his parents. His mother was a die-hard Patsy Cline and Beatles fan, while his father enjoyed Earth, Wind & Fire. "It gave me a good balance and a foundation of good music," Bobby says.
As a child, young Feeno was inspired by poetry and the rhymes of Tupac Shakur. "He's my favorite artist of all time," Bobby says of the late rapper. "The music that he put out was the soundtrack to my life growing up. When you're growing up in rough circumstances, the one thing you're searching for is hope and Tupac's music gave me that as a child." By ten years old, he was making music, admittedly just mimicking what he heard from the music around him with dreams of something greater.
While football took center stage throughout high school, college and then the NFL, music was always a constant for him. "I was making music throughout that whole process," he reveals. Bobby was cutting CDs of loose tracks and passing them off to his friends and family for feedback, slowly honing his craft. Their reactions changed as he and his style evolved. He also received some solid co-signs from friends like legendary rapper Scarface and award winning producer Hit-Boy. Once he retired from the NFL, Bobby opted to take his art very seriously. "I didn't feel like I could give it the love necessary to be of the quality that I thought it could be," he admits of his prior music. "As soon as I realized I could, I put more resources and effort into it."
He dropped Flamingo & Koval in 2018, a multi-dimensional project with a title that's a nod to the fateful intersection where Tupac Shakur was shot and later died days later. Released via TIDAL through LeBron James's Uninterrupted imprint, the project also came armed with a documentary titled Becoming Bobby Feeno. The musical portion was a series of tracks Bobby recorded over the course of five years, though his sound showed intense promise. After a number of labels showed interest in Bobby, he signed to Mass Appeal Records and is geared to release Late February.
The Late February EP is a collection of songs about love, a rarity in hip-hop music. "It's not too prevalent in hip-hop because of the stigma of bravado," he explains about the concept of imparting love into hip-hop. "The wave is changing, not necessarily just in music but in culture in general. Vulnerability is seen more as an attribute than a slight. It allows you to be more of an emotion human being."
Songs like "Talk About It" are both whimsy and poignant, discussing that flirtatious moment where mutual attraction is evident. "It's kind of a nice feel-good Summer song, talking about somebody who is interested in somebody and she caught his eye, and he's like, 'I don't know what's going on, but let's talk about it,'" Bobby expresses of the song's theme. Then there's "S.W.A.N. (Something We All Need)" about self-love featuring Xavier Omär and "A Beautiful Lie" with singer Jack Freeman, which is about surrendering to a romantic façade no matter how it might end. "It's like poetry," Bobby says.
There's also the highly personal "Ms. Carry," a song about a traumatic event in the rising star's life. "When I was like 19, I was with my girlfriend at the time and she had a miscarriage," he explains. "It was life altering for myself and I'm pretty sure for her. The crux of the song is about what it's like going through that situation, especially so young." There's an elevated level of art to Late February, with more of a polished sound coming from Bobby Feeno, coupled with an enhanced version of his style. "I write from the perspective of narrating the culture," he adds, "and this project has more of that."
Bobby Feeno has made the full transformation from athlete to artist, and Late February is proof. However, he keeps one solid goal in mind. "I think my mission is to reach as many people as possible," he says. "At the same time, I'm finding myself through the process."
Performers
Date and Time
Location