MarketTech 2014: Game of Smarts
When and where
Location
Grand Hyatt New York 109 East 42nd Street New York, NY 10017
Refund Policy
Contact the organizer to request a refund.
Description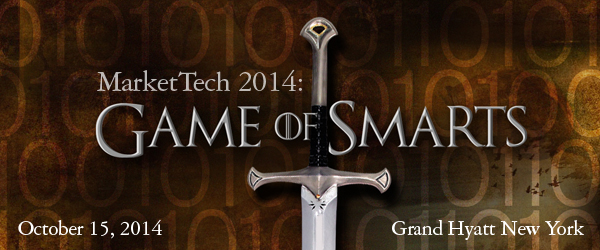 A changing of the guard is under way. A single, overarching capital markets megatrend into which all others lead. Make your priority lists, but the prevailing themes all lead here. Cloud, managed services, Big Data, solid state storage, security, Hadoop and other open source developments, standards, social media – you name it; all of these themes play a role in helping the trading community become smarter. At MarketTech 2014, industry leaders, visionaries and futurists will focus on some of the more provocative components of this capital markets megatrend: From Faster to Smarter.
#TABBtech
12 pm - 1 pm – Registration & Networking
1 pm – Opening Remarks - Changing of the Guard – From Faster to Smarter, Paul Rowady, Principal, Director of Data and Analytics Research, TABB Group
1:15 pm – 2 pm – Birth of Crowdsourcing
Social media platforms and techniques will have as profound an impact on institutions as they've had on our personal lives. Crowdsourced opinions as a precursor to sentiment analytics, community curated and maintained datasets, and peer-to-peer financing represent significant game-changers for capital markets participants, particularly traditional intermediaries. This panel will discuss the opportunities and threats in financial markets from direct interactions with crowd-based technologies.
Speakers:
Adam Devine, VP, Product Marketing & Stategic Partnerships, WorkFusion
Scott Jordan, Founder, HealthiosXchange
Greg Neufeld, Managing Founding Partner,ValueStream Labs
Kim Wales, CEO, Wales Capital
Moderated by: Paul Rowady, Principal, Director of Data and Analytics Research, TABB Group
2 pm – 2:45 pm – Keynote – Daniel L. Doctoroff, President & Chief Executive Officer, Bloomberg L.P.
2:45 pm – 3:15 pm – Networking Break
3:15 pm – 4 pm – Life of Operational Alpha
Global markets are being re-architected on the backs of regulatory mandates, disruptive technologies, demands for harvesting more intelligence from bigger data, and the general need to achieve better performance at lower costs. Right-sizing and upgrading operational models, strategies and infrastructure will require more innovation than in any previous era in capital markets. In short, there is alpha to be uncovered in your business model. In the first of two panels discussing the evolution from legacy to next-generation technologies, solutions and methods, this discussion will focus on the benefits of technical unification and collaboration.
Speaker:
Andy Brown, CEO, Sand Hill East Ventures
Michael Hoskins, CTO, Actian
Jacob Loveless, Co-founder and CEO, Lucera Financial Infrastructures
Steven SilbersteinChief Technology Officer, SunGard
Joseph Squeri, Chief Information Officer, Citadel
Moderated by: Anthony Perrotta, Principal & Head of Fixed Income Research, TABB Group
4 pm – 4:30 pm- Special Armchair Conversation: Steven J Randich, Executive Vice President and Chief Information Officer, FINRA with Larry Tabb, CEO & Founder, TABB Group
4:30 pm – 5:15 pm - Death of Legacy
Is it possible to "future-proof" your technical infrastructure? Maybe not. But minimizing, phasing out or eliminating legacy infrastructure is critical for achieving improved accuracy, timeliness and adaptability of analytics – a critical requirement in today's markets. Once trading firms and their intermediaries wake up to the value of archived data for current analytical needs, improved technical architecture concepts will rise in the pantheon of priorities. In the second of our panels focused on infrastructure, our experts will discuss strategies and technologies that will help reduce the drag of outdated tools and the intangible costs of technical fragmentation.
Speakers:
Jack Bloch, Head of Development Trading and Dispatch, Unify Inc.
Edwin Marcial, Senior Vice President and Chief Technology Officer, Intercontinental Exchange (ICE)
Bob Sampson, Head of Enterprise Platform and Direct Feeds, Thomson Reuters
Marinela Tudoran, Global Head of Cash Equities Technologies, Credit Suisse
Moderated by: Bob Iati, Partner, TABB Group
5:15 pm – Closing Remarks, Paul Rowady, Principal, Director of Data and Analytics Research, TABB Group
5:30 pm - Cocktail Reception