MarketTech 2013: Weapons of Mass Disruption – Big, Shared & Connected
When and where
Location
109 E 42nd St New York, 10017
Description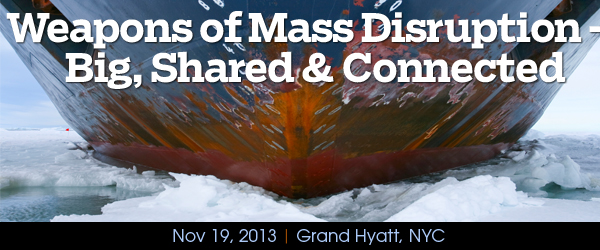 Technology is a critical pillar for the reinvention of the capital markets. In combination with shifts in employee skill sets and process re-engineering, new weapons of mass disruption will need to be broadly employed to right-size business models, augment capabilities, and harvest ever-more fleeting and complex opportunities. Providing market participants with the power to distill meaning, collaborate with greater ease, and ultimately make better decisions from an increasingly expansive and diverse sea of data will quickly become a necessity. At MarketTech 2013, industry leaders and visionaries will focus on three key themes that will be central to this transformation: solid state storage, open standards, and cross-asset functionality. #TABBtech
12 pm - 1 pm – Registration & Networking
1 pm – Opening Remarks, Larry Tabb, CEO & Founder, TABB Group
1:15 pm – 2 pm – BIG and BIGGER
There is an in-memory revolution brewing. Think: big data meets big memory. Given the intensifying business needs for risk and opportunity analytics at higher and higher performance levels, in-memory solutions are an increasingly attractive alternative to multi-disk appliances. Though cost and maintenance challenges remain critical, in-memory solutions demand our attention.
Speakers:
David Rukshin, Senior Vice President, D. E. Shaw & Co.
Mark Palmer, Vice President and General Manager, TIBCO StreamBase
John Overton, CEO, Kove
Jean Safar, CTO, Quartet FS
Sinan Baskan, Vice President, Capital Markets Solutions, SAP
Moderated by: Paul Rowady, Senior Analyst, TABB Group
2 pm – 2:45 pm – Special Armchair Conversation- Jon Ross, CTO, KCG and Larry Tabb, CEO & Founder, TABB Group
2:45 pm – 3:30 pm – SHARED
Right-sizing unsustainable capital markets cost structures will depend in large part on redefining what is owned and what is shared, and on an increasing reliance on shared services and workflows. But much more development must occur in the area of standards and open source technologies before seamless, shared functionality can be a reality.
Speakers:
Christopher Moskowitz, CTO, Deerfield Management

Dan Hu, Associate Partner, Capital Markets Group,

Capco

Varghese Thomas, SVP, Global Head of Infrastructure,

NYSE Technologies

Josh Schubkegel, CTO,

REDI Global Technologies
Moderated by Adam Sussman, Partner & Director of Research, TABB Group

3:30 - 4 pm - Networking Break
4 pm – 4:45 pm – CONNECTED
Maximizing access to global markets is about survival. As traditional market opportunities decay or evolve, market actors need to become more agile. Innovations that turn the tide on technical fragmentation and support timely access to global markets through centralized, cost efficient, and easy-to-use solutions will be critical to answering increasing demands for the functionality of multiplicity.

Speakers:
Brennan Carley, Global Head of Elektron and Enterprise Platform, Thomson Reuters
Mark Casey, President & CEO, CFN Services
Bill Nichols, Senior Advisor Information Architecture and Innovation, US Department of the Treasury
Robert Schrage, Director of Solution Architecture, Telx
Tom Whelan, Head of US Derivatives and Product Sales, Instinet
Moderated by: Will Rhode, Principal, Director of Fixed Income Research, TABB Group
4:45 pm – 5:15 pm - Keynote
Latency 2.0 – Human Latency: With the race to zero technical latency winding down, all eyes will slowly turn to new a new latency challenge: human latency. As our industry right sizes, doing more with less will certainly include increased productivity from a shrinking workforce. This transformation will not be possible without greater focus on process re-engineering and dramatically enhanced application design. Time to bring the gamers to Wall Street.
Speaker: Kevin Pleiter, Vice President, Financial and Business Services, Dassault Systemes
5:15 pm – Closing Remarks, Paul Rowady, Senior Analyst, TABB Group
5:30 pm - Cocktail Reception
Sponsors: