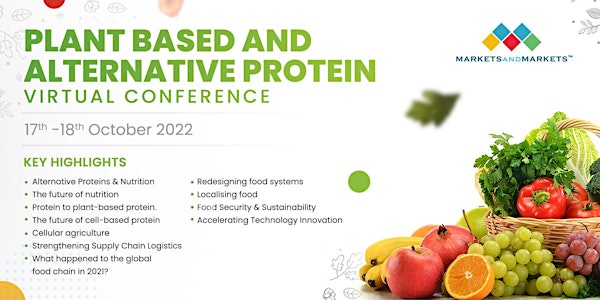 MarketsandMarkets Plant Based and Alternative Protein Virtual Conference
MarketsandMarkets Plant Based and Alternative Protein Virtual Conference
About this event
Designing a worldwide road map for alternative proteins!
Plant-based foods are one of the fastest growing food categories, growing by double digits in 2019, and are expected to reach $68.4 billion worldwide by 2026. The growth of this market is driven by a wide range of factors, including the increasing intolerance for animal proteins among consumers, the growing vegan population, and the booming number of venture investments in plant-based foods. Further, the increasing number of new products developed by manufacturers of plant-based proteins and emerging economies, such as Asian-Pacific, Latin America, and Middle East & Africa, are expected to provide new opportunities for players in this market.
MarketsandMarkets is extremely delighted to announce its "Plant Based and Alternative Protein Virtual Conference" scheduled to be held on 17th -18th October 2022. The conference will include innovations in the food-service sector, advancements in functional ingredients, market data sharing, and an examination of the criteria for retail placements of plant-based products. The conference also includes interactive breakout sessions, solutions and services supporting the rapidly growing alternative protein industry. The event will witness the participation of a decision makers from the plant-based food industry.
Key Highlights:
Alternative Proteins & Nutrition
The future of nutrition
Protein to plant-based protein.
The future of cell-based protein
Cellular agriculture
Strengthening Supply Chain Logistics
What happened to the global food chain in 2021?
Redesigning food systems
Localising food
Food Security & Sustainability
Accelerating Technology Innovation
Confirmed Speakers:
Tyler Mayoras, Cofounder, Cool Beans
JJ Kass, Vice President Business Development & Strategy, Tindle
Seth Tibbott, Founder and Chairman, The Tofurky Company
Sadrah Schadel, Co-founder & CEO, No Evil Foods
Steve Hamon, CEO, The Vegan Society