About this Event
Marketing Your Sustainable Business: Why How You Tell Your Story Matters
The demand for environmentally-friendly products and services continues to grow, but competing on sustainability in today's market requires more than buzzwords. Learn what your business needs to do to win on sustainability.
Topics Covered
Refine your Audience
Get specific about your sustainability efforts
Establish a long-term commitment
Building Corporate Partnerships
Creative Story-telling
Content
How to identify the right company and pitch to the right buyer
How to standout, lose the buzzwords and highlight tangible, specific benefits that truly matter to your buyers
Add texture: How showing a history of environmentally-minded practices can differentiate you from those who just jumped on the bandwagon
Social proof as a powerful tool – Align with certified industry authorities and groups that support your values
Stay fresh and stay ahead of the curve. Using creative ways to tell your story
This workshop is the sixth in a series of sustainable business workshops. Other topics such as green business certifications and social entrepreneurship will be covered in the remaining workshops. You may attend one, a few, or all of the workshops and can view the full schedule below: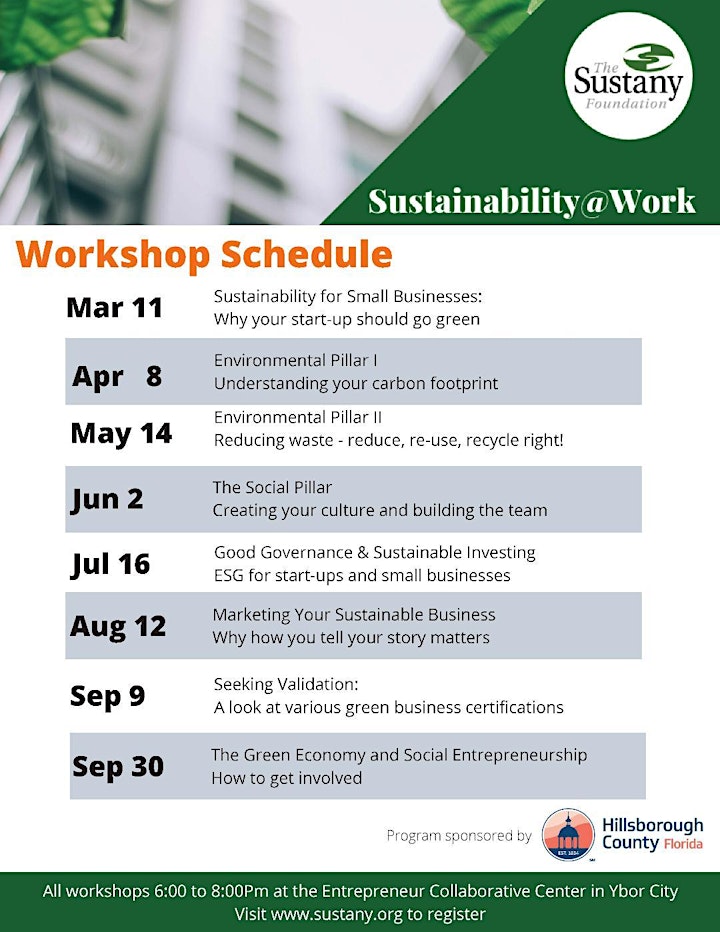 About the Program
Sustainability@Work is a series of workshops designed for start-ups and small businesses interested in learning more about how to become more sustainable and why it is not only important, but profitable. Each workshop will cover an important aspect of becoming a sustainable business.
The workshops are designed as stand-alone sessions and attendees may choose to attend one or all of them depending on their particular challenge or interest. The program is also designed to work as a cohesive series so a participant attending all sessions will be well prepared to create a comprehensive sustainability plan or work towards one of many certifications in the industry upon completion.
Attendees who are interested in pursuing a certification or getting a more formal assessment are eligible to apply for a free one-on-one consultation.
THIS PROGRAM IS MADE POSSIBLE WITH THE GENEROUS SUPPORT OF HILLSBOROUGH COUNTY GOVERNMENT