Description
Come learn with us at Digital Marketing Bootcamp Dallas for the following presentation:
Marketing to Millennials: How to Build a Purpose Driven Brand - Panel Discussion
Whether you're a startup founder, small business owner, or B2B company interested in reaching and engaging a millennial audience, the training will offer these following insights:
Top 3 Ways to Build a Sustainable & Social Brand
With Ayodele Aigbe, CEO of Hangio | Future Founders Fellow
Ayodele Aigbe is a current Texas Tech undergraduate student pursuing her B.S. in Electrical Engineering. In 2018, Ayodele founded Hangio, a closet-focused startup optimizing and enhancing the everyday closet experience through innovative bendable hangers. To date, Ayodele has participated in a national Accelerator program, raised more than $40,000, and has been featured in business articles from Dallas Innovates and Hub Hustle. Through her work, Ayo has been listed on Texas Inno's Under 25, named Texas Business Hall of Fame Scholar, and a 2020 Future Founders Fellow. Alongside expanding her startup, Ayodele is an advocate for youth and minority involvement in STEM. She leads STEMgirlboss, a platform dedicated to equipping youth with the skills and knowledge to be successful in engineering and business through personal and interview-style videos.
Connecting with Millennials Through Purpose Driven Design
With Jonathan Barton, Chief Design Officer & Co-Founder at CuffedUp
Jonathan Barton is the Chief Designer and Co-Founder at CuffedUp, a comfortable and patent pending invention that keeps sleeves rolled and styled. From engaging fashion conscious millennials to a more mature demographic of women 50+, his company's product has been featured in several outlets including Rewardstyle, Good Morning Texas, D Magazine, and Real Simple. Additionally, Jonathan Barton is a freelance designer working on diverse projects from a Fortune 500 education technology company where he designs internal and external facing assets like promotional graphics for an NFL stadium promoting a giveback campaign to an ergonomic furniture and acoustics company creating eco-friendly functional products from recycled bottles. Jonathan's branding and design philosophy is centered upon extensive analysis and research on key stakeholders, objectives, and project constraints, which has successfully led to the founding of two companies, product patents, and international experience managing teams in three countries on UI/UX, product development, and video production.
How to Use Storytelling for Social Change
With Neha Husein, Founder & CEO of Just Drive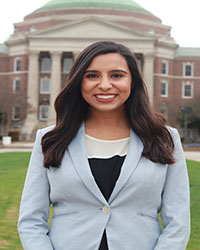 Neha Husein is a human rights entrepreneur and recent SMU graduate with degrees in human rights and marketing and minors in advertising and nonprofit studies. Neha is the Founder & CEO of Just Drive, an app that rewards undistracted driving that she created after she was rear-ended by a driver that was texting. In March 2017, she pitched Just Drive at South by Southwest after winning the Red Bull Launch Institute Competition. After SXSW, Neha's story was picked up by news stations such as NBC, CBS, Carrollton Leader, Dallas Innovates, and the Dallas Morning News. Neha recently gave a Tedx Talk on the importance of creating and claiming your personal brand.
Breaking Barriers Through Authenticity
Emily Khan, Founder of EK Creative, LLC
Emily Khan is the founder of EK Creative, LLC as well as Running Late with Emily Khan, a podcast that features badass millennial women navigating their way through their careers, entrepreneurship, education, and other areas of life where they are challenging status quo. Through her company, she provides comprehensive digital marketing strategy for clients such as Sign Easy, a tech startup for E-signatures. With experience in Google Analytics, she has also worked as an SEO analyst for local companies including Reach Local and Vouch. Emily is currently a senior at ASU majoring in Digital Audiences with areas of specialty including content planning and production, community management, email marketing, analytics and strategy.
The Key to Communicating with Purpose
Tram-Anh Le, Digital Marketing Strategist | Founder at Tram-Anh's Treats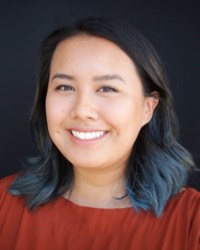 Tram-Anh Le is a Digital Marketing Strategist for DFWChild Magazines, a lifestyle media company serving women with children in the Dallas-Fort Worth area. She is also the Founder of Tram-Anh's Treats, a baking and catering company which has partnered with local vendors including Resurrected Designs, Firewheel Coffee, and Local Hot Spot. Alongside this venture, Tram-Anh served as the Marketing Coordinator for SPUR Startup, a launchpad helping innovative people transition more easily into the startup world during and after college. She believes strongly in positivity and personal growth and has channeled these interests into helping entrepreneurs break through mental barriers in their business. Tram-Anh also holds a Bachelor's Degree in Marketing from UTD Naveen School of Management and specializes in content strategy, video editing, sales support, social media management, and product innovation.
Agenda:
Networking: 6:00
Introduction: 6:45
Panel and Q&A: 7:00
Networking: 8:30
Our Sponsors:
Thank you to Capital Factory +The DEC for sponsoring event space in 2019 for Digital Marketing Bootcamp Dallas. Capital Factory is the center of gravity for entrepreneurs in Texas. They meet the best entrepreneurs in Texas and introduce them to their first investors, employees, mentors and customers.


Thank you to Mowie Media for being an official beverage sponsor for Digital Marketing Bootcamp Dallas in 2020. Mowie Media helps organizations and startups build upon their strengths and create brands, websites as well as engaging & interactive products. It combines a unique lean approach with the knowledge of human behavior using research and the principles of user-centered design.

For sponsorship inquiries, please email info@dmbdallas.com