Marketing to Make Money: If you want to lose money please ignore this event
Sales Have Ended
Ticket sales have ended
Tickets sales for this seminar have ended. Please contact Andy "The Marketing Guy" at 815.441.2219 for more details.
Sales Have Ended
Ticket sales have ended
Tickets sales for this seminar have ended. Please contact Andy "The Marketing Guy" at 815.441.2219 for more details.
Description

The U.S. Small Business Administration has seen lots of small businesses come and go. According to the SBA, over 50% of small businesses fail in the first five years. Why? What goes wrong?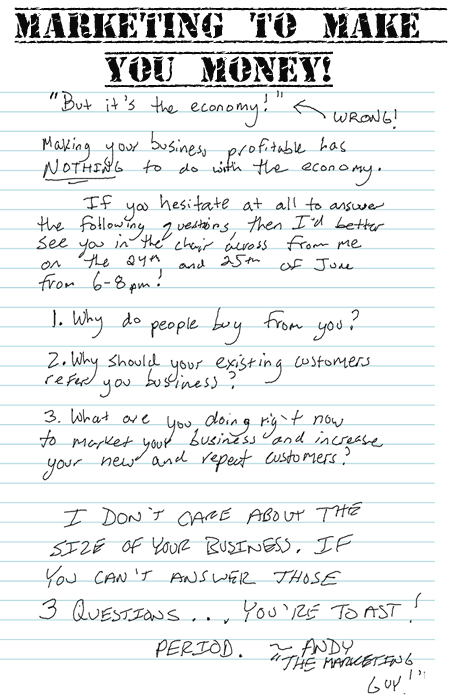 Day One (June 24th 6-8PM)
- Introduction to marketing your business in 2013
- What works and what doesn't (A journey back in time)
- Social Media 101: Demystifying the beast! (Everything you wanted to know about posts, tweets, pins)
- How to setup and maintain your Facebook page
- Facebook advertising (The coolest and cheapest advertising that allows you to control who sees it) Plus, how to format your ads for maximum visibility

- In-depth overview of Twitter, Facebook, Pinterest and how you can make them work for you easily

Day Two (June 25th 6-8PM)
- Advertising 101: It's time to start spending your ad dollars wisely. No more "Pay and Pray" advertising
- Website: Why your website isn't working and why you need one to survive in 2013

- Lead generation: How to build a list of customers that not only agree to be marketed to but look forward to it!
- Q&A w/Andy "The Marketing Guy"
- Business owners HOT SEAT! Real life success stories
In addition to the greatest 4 hours of marketing instruction you will ever receive, you'll walk away with a FREE thumb-drive stuffed with how to's, Andy's recommended reading list, a copy of the new e-book The Very Best of Bent Business Babble, plus some insider secrets that I am hoping stay just between us!


Pictured above is an 8GB but we accidently ordered 4GB! What?! That's why the vent price was slashed from $299.99 to $149.97. Our pain...your gain.
Starting the second you leave here on the 25th, you'll be able to employ multiple tactics to rapidly and cost effectively build a business that generates new and repeat customers. You'll be equipped with the trade secrets of some of the wealthiest professionals on the planet. And...you will have met some of the coolest, like minded and turbo charged people in Clinton, IA.
Your competition might be one of the people in attendance. Or they may not! But are you willing to take the risk of them showing up while you squander away your money and choose to invest in another quarter page ad with typos?
That choice is yours.

P.S. I read...a ton! And what I've discovered, is that there is a pattern to success. It's not due to pure dumb luck. Yes, it does take tenacity and a "never quit" attitude, but there is no secret formula. It's a simple first step in the right direction, followed by another, and another...and another. Learning what direction is the right one is the tough part. But lucky for you, I'll be pointing you there.
All you have to do is follow my instructions like a turn-by-turn GPS. ~Andy
P.P.S. If at the end of the second day, you're pissed that you just spent a decent chunk of change on this information stuffed seminar, I will give you your money back...NO QUESTIONS ASKED.

P.P.P.S. If after 2 weeks, or 14 calendar days, you think that what I have taught you will NEVER be used in your business, I will give you a 100% refund. Again, NO QUESTIONS ASKED.
So the way I see it, you have nothing to loose and everything to gain. ~Andy


For questions, be sure to contact Andy "The Marketing Guy" at 815.441.2219 or email Andy@BentBusinessMarketing.com

815.441.2219
Organizer of Marketing to Make Money: If you want to lose money please ignore this event