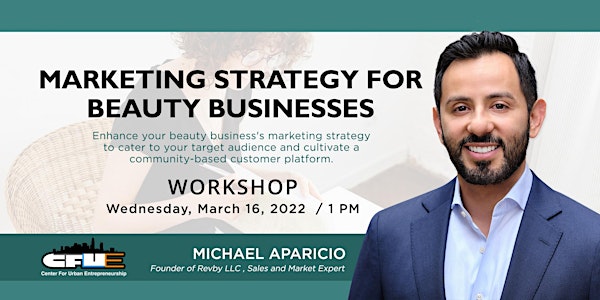 Marketing Strategy for Beauty Businesses
Enhance your beauty business's marketing strategy to cater to your target audience and cultivate a community-based customer platform.
About this event
This workshop is being co-facilitated by Michael Aparicio & Morganne Kaneen of Revby LLC. Their bios are below for reference:
Host Bio:
Michael Aparicio is the founder of Revby LLC, a consulting and coaching service created with the vision to cultivate confidence and sustainable success among community-based business owners. Revby recognizes that community-based entrepreneurship is a powerful force to counter issues like income inequality. Michael is driven by every personal story and outcome by entrepreneurs and business owners who deliver value to their local communities, particularly those with historically inequitable access to opportunity including minority, immigrant, and the LGBT communities.
Co-Host Bio:
Morganne Kaneen
Morganne, a social media and digital marketing specialist, loves getting her hands dirty with analytics. Hailing from Portland Oregon, her childhood passion for the arts and puzzles turned into a fascination with digital marketing and design. After studying Communications at BYU-Idaho, she discovered a love of beaded-weft extensions at the Aveda Institute-Portland; eventually combining both passions becoming a specialist in beauty and lifestyle branding and marketing. She strives to embody the words of Marty Neumeier, "Designers don't actually solve problems, they work through them".