Description
Good business decisions, particularly good marketing decisions, should be grounded in research. The Research Partnership has been helping local, regional, and national clients make better business decisions for over 30 years. Recently relocated to Wichita State University, we now have a brand new facility and an expanded pool of experts to help you.
Dr. Lisa Parcell, Director of TRP, and Robin Mishler, Director of Operations, will explain how marketing research can help guide your business. Have a new ad you want to test before it releases? We can help with that. Want to change your company name or rebrand your product? We can help with that. Thinking about launching a new product or tweaking an existing one? We can help with that, too.
Different problems require different approaches and we regularly use a wide variety of research methodologies to answer the questions our clients want to know. We will walk through the services and methodologies we provide, giving examples along the way that show the range of ways we can get you the information you need to know.

Key takeaways for attendees:
Why they should consider market research for their own business

How we can help them get the information they need to make better business decisions

The questions, objectives, and decisions that market research can help them better understand

Case studies on how market research can be applied and the solutions it can provide
About the presenters:
Dr. Lisa Parcell, Director of The Research Partnership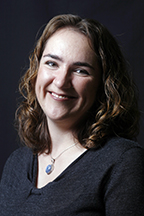 Dr. Lisa Parcell serves as the co-director of The Research Partnership. She is an Associate Professor of Integrated Marketing Communication in the Elliott School of Communication at Wichita State University. She received her Ph.D. and MS degrees from The University of Alabama and a BS degree from Appalachian State University. Dr. Parcell received her research training in both qualitative and quantitative research methods at the Institute for Communication Research at The University of Alabama.
At WSU she teaches courses in integrated marketing communication, research methods, communication history, and strategic communication. She teaches the capstone course for IMC majors where students create a marketing campaign for two Wichita non-profits each semester.
Before coming to WSU, Dr. Parcell worked as a public relations professional for the Sierra Club, Georgia Tech Research Institute, and PACERS, Alabama's Small Schools Cooperative.
Between 2001 and 2007 she was Associate Director of WSU-LINK, a community engagement effort charged with facilitating partnerships between WSU and the local community.
Robin Mishler, Director of Operations


Ms. Mishler is the Director of Operations and Lead Research Analyst at The Research Partnership. Robin holds a Bachelor of Business Administration and Marketing as well as an M.B.A. Both degrees were completed at Wichita State University's W. Frank Barton school of Business. She has also completed the Principles of Marketing Research program endorsed by the Marketing Research Institute International, Marketing Research Association, and the ESOMAR which is administered by the University of Georgia.
Before joining The Research Partnership, Inc. Robin served as an administrative assistant with a C.P.A. firm. Additionally, Ms. Mishler possesses strong organizational skills developed from her time in the service industry with The Hyatt Regency in Wichita, KS. Robin is active in the Wichita Sports community, having served for 8 years as the Business Manager/Scorekeeper for the Air Capital Astros, an adult men's baseball team.