Marketing Plans of Successful Musicians

Monday, February 22, 2016 from 6:00 PM to 8:00 PM (PST)
Event Details
Looking for fresh ways to market your musical passion in the New Year?
Attend our upcoming event to pickup tips from a pro!
Many musicians achieve some level of success marketing themselves, their bands, and their music. Today, there are marketing resources and tools abound. At this installment of The Musicians Marketing Network Presents, guest presenter J.C. Smith will speak about the marketing plans of successful musicians, the same type of plan he's used throughout his own career.

J. C. Smith, winner of the 2012 Metro Newspapers Best Of Silicon Valley "Best Original/local Band," and 2006 Bay Area Blues Society West Coast Blues Band-of-the-Year award winner is originally from the San Francisco Bay Area. He is an outstanding performer noted for his energy and charisma. Prior to playing guitar, he was the drummer for the Back to Back Blues Band. In 2000, he emerged from behind his drums, armed with a Gibson 335. J. C. attacks the Blues as if he is being guided by the masters like T-Bone Walker, Albert King, and Johnnie Guitar Watson. The J. C. Smith Band's recent release "Defining Cool" one of his best recording to date. Listed for the 52nd Grammy Awards for "Best Contemporary Blues CD," it entered the Living Blues Radio Charts at #16 and was a "Pick to Click" on XM Radio. After 20 weeks on the Roots Report, the CD climbed the charts as high as #25 nationally. In 2004, Smith released "That's What I'm Talk'n 'Bout," co-produced by Grammy Award Nominee Joanna Connor. J. C. feels that his goal in life is "To keep the Blues alive and take the message to the people."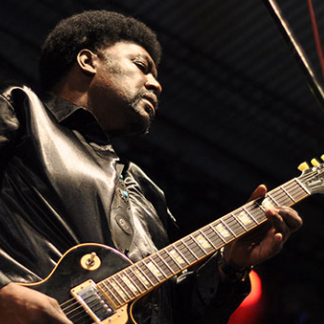 Guest Speaker J.C. Smith, The J.C. Smith Band
Co-Organized by: Aeriol Ascher, Body Mind & Soul
HOW TO FIND US

This is the same tower/building that's home to Mainstream Real Estate Group on the first floor. It's also the tower located closest to the parking structure.

When & Where

Pruneyard Tower 1
1901 South Bascom Ave
Suite 1090 (10th Floor)
Campbell, CA 95008


Monday, February 22, 2016 from 6:00 PM to 8:00 PM (PST)
Add to my calendar
Organizer
Roberto R Hernandez
Marketing professional, musician, and wino... I'm connected to the worlds of digital marketing, referral leads groups and wireless technology. My events are not just a networking opportunity; they're an attempt to give a little to the communities I serve and love.
See me play! www.robonzo.com
Connect w/me on LinkedIn
Marketing Plans of Successful Musicians