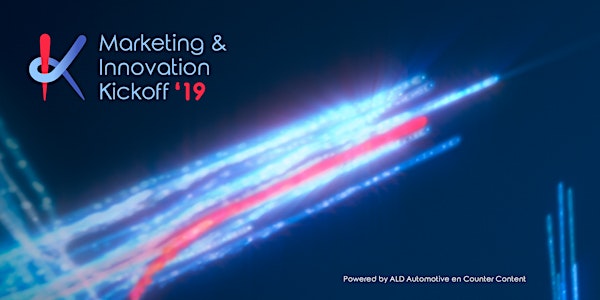 Marketing & Innovation Kickoff 2019
When and where
Location
ALD MOBILITY EXPERIENCE CENTRE Hoeksteen 60 2132 MS Hoofddorp Netherlands
Description
Marketing & Innovation Kickoff 2019
Wat hebben Hardt Hyperloop, ALD Automotive, SnappCar en personalisatieplatform Unless gemeen? Het zijn allevier merken die vernieuwen, voorop lopen en grenzen verleggen. Het zijn merken, van startup tot corporate, die als voorbeeld worden gezien door velen en een inspiratiebron zijn voor marketeers, communicatie experts en innovatiemanagers. Hoe gaan deze merken om met hun marketing, communicatie en storytelling? Hoe zorgen zij ervoor dat het innovatieve DNA ook voor (potentiële) klanten, stakeholders en de rest van Nederland zichtbaar wordt?
Op deze vragen en meer geven onder andere Machiel van der Brugge (Country Manager Nederland bij SnappCar), Lonneke van der Horst (Strategy & Innovation Director ALD Automotive), Jelte Altena (Head of Marketing Hardt Hyperloop) en Sander Nagtegaal (CEO van Unless) op vrijdag 8 februari antwoord tijdens de Marketing & Innovation Kickoff 2019. Kom je ook? Schrijf je snel in, er is plek voor 50 marcom-professionals.*
De Marketing & Innovation Kickoff 2019 is een initiatief van PR en content marketingbureau Counter Content.
Programma:
14:30 uur - Inloop

15:00 uur - Start programma met 4 talks

16:15 uur - Start borrel en innovation playground

17:30 uur - Einde
*Let op: Het Mobility Experience Centre bij ALD Automotive heeft beperkt plek. Je inschrijving geeft pas na bevestiging van de organisatie toegang tot het evenement.
DE SPREKERS
Jelte Altena - Head of Marketing bij Hardt Hyperloop
Jelte Altena is verantwoordelijk voor de marketing van het Delftse Hardt Hyperloop, de enige commerciële hyperloop-partij in Nederland. De hyperloop, naar een idee van Tesla-oprichter Elon Musk, is een technologie waarbij een capsule via een vacuüm buis en met behulp van magneten, razendsnel van A naar B 'vliegt'. Partners van Hardt Hyperloop zijn onder andere Tata Steel, Royal IHC, NS en Deutsche Bahn. In 2018 wist Hardt vijf miljoen euro op te halen bij verschillende investeerders zoals Block Party en InnoEnergy. Tijdens de eerste HyperSummit die afgelopen september plaatsvond, is de samenwerking aangekondigd met Royal Schiphol Group.

RTLZ maakte eerder dit jaar een verslag van de ontwikkelingen rondom Hardt Hyperloop.


Sander Nagtegaal - CEO bij Unless
Sander Nagtegaal is CEO en medeoprichter van Unless, een personalisatie-platform voor websites. Unless verbetert het begrip tussen mens en machine, door het specifiek afstemmen van digitale communicatie op ieder individu. Het platform voor online personalisatie laat websites zich aanpassen aan elke unieke bezoeker. Unless, opgericht in 2016 in Amsterdam, wordt op meer dan 7.000 websites toegepast. Het bedrijf wordt ondersteund door Block Party, Rockstart en verschillende individuele investeerders.
Sander Nagtegaal sprak eerder dit jaar met het FD over personalisatie en Unless.


Lonneke van der Horst - Strategy & Innovation Director bij ALD Automotive
Lonneke van der Horst is bij ALD Automotive verantwoordelijk voor het ontwikkelen en vermarkten van innovatieve mobiliteitsconcepten en strategische vernieuwing. ALD Automotive staat vooraan op het gebied van productontwikkeling, marktonderzoek en innovatie en behoort tot de top drie van grootste autoleasemaatschappijen wereldwijd. In 2016 en 2017 werd het bedrijf gekroond tot beste leasemaatschappij van Nederland. Lonneke is tevens de initiator van het Mobility Experience Centre, de locatie van de Marketing & Innovation Kickoff 2019, dat gebruikmaakt van elementen als serious gaming, video en virtual reality.

Lees meer over hoe ALD Automotive innoveert in de samenwerking met Microsoft.


Machiel van der Brugge - Country Manager Nederland bij SnappCar
Machiel van der Brugge is Country Director bij SnappCar in Nederland. SnappCar is opgericht in 2011 en is de grootste Nederlandse en tweede Europese online community waar particulieren makkelijk en uitstekend verzekerd hun auto met elkaar kunnen delen. Als social enterprise wil SnappCar een positief verschil maken op ecologisch, economisch en sociaal niveau. Samen zorgen de ruim 270.000 leden van de SnappCar community in Nederland, Denemarken en Zweden voor meer leefbare steden met meer ruimte en minder co2-uitstoot. Bovendien verlagen zij hun autokosten flink en zorgen zij met elkaar voor een sterker sociaal netwerk.

Luister hoe SnappCar het tweede autodeelplatform van Europa werd.