Actions and Detail Panel
Marketing in the Age of Digital Media-Real Time Data and Leads
Tue, January 24, 2017, 11:00 AM – 1:00 PM EST
Description
January Signature Luncheon
ON-SITE REGISTRATION WILL BE AVAILABLE ON TUESDAY, JANUARY 24. WE LOOK FORWARD TO SEEING YOU THERE!
Marketers today have the benefit of seemingly infinite data to help them do their job, but with great power comes great responsibility. Your analytic and marketing tools should be working for you — not the other way around. This event will feature Scott McNabb who is a leader in data analysis and lead generation, helping you sort through the clutter to allow you to use data to inform marketing decisions.
Speaker:
Scott McNabb, Head of Global Sales, Global Marketing Automation Platforms, Oracle Marketing Cloud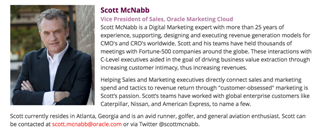 Agenda:

11:00am - 12:00pm New Member Orientation (optional)
11:00am - 12:00pm Networking/Registration
12:00pm – 1:00pm Lunch and Presentation
Sponsored by Headshot Ventures:

Follow AMA Atlanta on Facebook, Twitter, LinkedIn and Instagram.
@AMAAtlanta
#AMAATL
Parking:
Maggiano's has a parking garage which is complimentary. It is located in the back of the restaurant. When you enter you will get a ticket and we will provide a voucher to you. Valet parking is also available for lunch at $2 per car. Finally, there is also parking lot that is adjacent to Maggiano's which offers paid public parking at $7(not owned by Maggiano's).
Cancellation Policy: Due to pre-registration costs and guarantees, refunds or credits are not extended for this event. However, registrations are transferable. On the day of the event, the substitute attendee must present a copy of the registration receipt or e-mail verification to be admitted to the event.