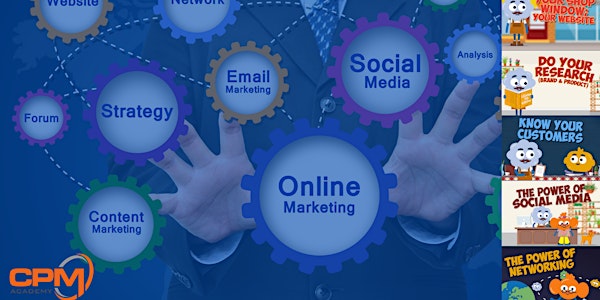 Marketing Essentials - Bundle of 5 Courses
Online Course. Study at your own pace. Bundle of 5 Courses.
About this event
362 days 8 hours

Mobile eTicket
CPM Academy and TalentLMS bring 100% Online Courses for your professional development. Receive a Certificate of Completion from CPM Academy after each course.
This Bundle includes the following 5 Courses:
Your Shop Window, Your Website
Now we live in a virtual world, and our 'window shopping' is done online. This means that to make a good first impression, your window display should be virtual too! This course will show you how and why setting up shop online is essential to preserving and growing a business.
By the end of this course, you'll be able to:
Understand why it's important to have a great website
Make your website stand out
Use your website as a marketing tool to grow your business
Do Your Research (Brand and Product)
Market research helps establish a connection to customers, which can provide invaluable information. It helps you understand what customers do and don't like, which, in turn, helps you make better-informed business decisions. Market research must simply be taken seriously. Thankfully, you don't need to stand on the street with a clipboard to get customer feedback. By conducting market research online, you can drive business growth and get ahead of the competition.
By the end of this course, you'll be able to:
Understand what market research is
Identify why brand research is as important as product research
Conduct effective market research
Know Your Customers
In business, not knowing your customers can make your life as scary as any horror movie. If you don't know enough about them, especially what they want, it can have a drastically negative effect on your sales. Investing time in getting to know your customers is a crucial part of running a successful business.
By the end of this course, you'll be able to:
Understand what it means to 'know your customers'
Identify how you can get to know them
Apply customer knowledge techniques to boost your sales
The Power of Social Media
Social media has become a huge part of our daily lives, with millions of people online at any given moment. This makes it a powerful marketing tool for every business. Establishing and building a strong social media presence may seem challenging, and it does take time. But it can be a game changer for your business's growth and success.
By the end of this course, you'll be able to:
Understand why social media is important to business
Use social media as a marketing tool
Create good content that can get your business trending
The Power of Networking
Building connections is important in every business and in every department of a company. Knowing how to form and grow these connections is a crucial part of helping your business succeed. That's where networking comes in.
By the end of this course, you'll be able to:
Understand why "who you know, not what you know" is true in networking
Build strong connections
Find networking opportunities that will benefit your business