Sales Have Ended
Ticket sales have ended
Sorry, you missed out on this event! Please visit us at http://www.marketingcounts.com for all your digital marketing needs!
Sales Have Ended
Ticket sales have ended
Sorry, you missed out on this event! Please visit us at http://www.marketingcounts.com for all your digital marketing needs!
Finally, bring clarity to your marketing in 2020! Let your Marketing Superheroes teach you how to generate more traffic, leads, and sales!
About this Event
Bring New Business Through Your Doors & Leave With A Real Digital Marketing Plan You Can Implement Immediately!
Your 2020 Digital Marketing Strategy Is Here!
Your Digital Marketing Superheroes, and Co-Hosts of the Marketing Counts Podcast are coming to Dallas, Texas on January 22nd and 23rd for a special two-day workshop intended to help you grow your business!
During this hands-on workshop we invite you to bring your laptop and follow along as we setup real marketing campaigns for your business! We teach our EXACT process for generating real results for our clients!
See what a recent attendee had to say...
"Within 2 hours after we setup our Google Ads during this class, we had one lead registered, and looking for homes between $500,000 to $2 Million Dollar Homes!" - Tim G., Realtor
During This Powerful Two-Day Marketing Event You will Discover:
What Most Marketing Agencies NEVER Want You To Know
Our Proven 3 Pillars of Digital Marketing
The Google "3-Pack" & How To Get There
​Best Practices For Running Ads
What Marketing Services You Should STOP Paying Monthly For!
​Actionable Steps You Can Implement!
Google My Business Hacks
And much more...
Business owners we help have achieved a 648% increase in Google SEO exposure, over 6,000 new leads in 5 months, record traffic numbers, an 89% DECREASE in marketing costs, increased natural search on Google My Business by 34.9%, thousands of new exposures for their business online, numerous top 10 rankings, boosted exposure in Google 3-pack, & more!
We Teach You Exactly What To Do Live!
This may seem crazy, and it kind of is, but we teach you how to market your business online. In fact, we teach you the EXACT steps we go through to get our clients AMAZING results! Bring your laptop and be ready to take notes!
What Is The Catch?
There is NONE!
I know it may seem a bit strange to you, that we are going to share our proven process for digital marketing success to you. It is like we are letting you in the kitchen as we make our secret recipes right before your eyes.
But to us we love seeing entrepreneurs succeed. We also know that if you lead with value business will come. To be totally frank a lot of our attendees and people who learn from us eventually become customers, or they refer us new business. When you lead with value, and give value you first, good things come back.
This event is not a pitch-fest for our services, but we know you will be impressed with our knowledge of digital marketing when you leave.
Why Is This Not Free?
We are teaching you our closely guarded marketing secrets for two days, and there is a small investment involved. We are also running a business and do have to pay for our hotel, airfare, lodging for our team, etc.
If this was a two-hour session introducing you to our services, then it would be free.
But this is an immersive, hands-on marketing workshop like none you have ever been to!
Bring Your Laptop & Set Up Your Marketing
Bring your laptop and follow along with us as we teach you how to set up Google My Business, on-page SEO, Google Ads Campaigns, Social Media Marketing, FB Ads, and more!
This event is all about you! If you get stuck we can answer questions live! If you want to hire us after this event is over to do the work for you, that is fine too! We will even credit your event cost towards the package price.
Traditional Marketing Agencies Get Traditional Results...
We get results that count! Our clients have seen an improvement in exposure and traffic of over 648%, a reduction in ad spend by 90%, 6,000 fresh leads in a few months, a double of their Google My Business actions, more phone calls, and much more!
If you work with a traditional marketing agency, you can expect traditional results!
But if you work with a non-traditional marketing agency like us that has 20+ years experience, you will get extraordinary results that truly count!
Your Competition May Show Up
Just a word of warning...your competition may show up to this event! Do you really want them to learn the most cutting-edge and easy to understand marketing ever taught?
Let's help you get your marketing right for 2020! More traffic, leads, and sales await you! We look forward to working with you!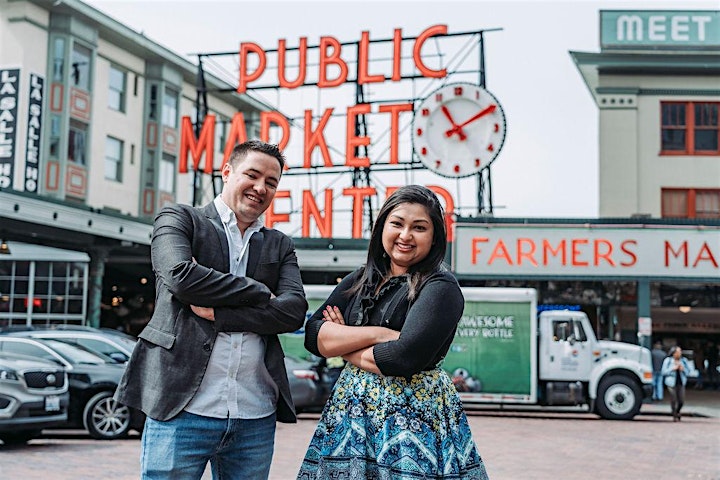 Let Our 30+ Years of Combined Digital Marketing Experience Put It All Together For You At Marketing Counts Live!
Meet Shreya Banerjee & Paul Counts...
Shreya Banerjee is the co-founder of Success Counts, Inc. and co-host of the Marketing Counts Podcast. She has over 11 years experience in the power and aviation industry as a process engineer and lean leader for a multi-billion dollar international corporation, and routinely manages projects totalling over $50 million dollars.
She brings leadership skills, tech skills, and understanding of processes that makes her one of the leading trainers and coaches in Internet marketing today! Let her give you the processes you need to accelerate your company's growth.
Shreya is also the founder and CEO of Ninja by Night, a training company setup to help people break into entrepreneurship successfully!
Paul Counts is the co-founder of Success Counts, Inc. and co-host of the Marketing Counts Podcast. He has been running an online business for over 20 years now when he started in high school. He is a movie producer, podcaster, author, and an internationally recognized digital marketing expert. His proven digital marketing strategies has resulted in over $25 million in online sales for his companies and clients.
He was the host of his radio show that aired throughout several US states. Counts is one of the most sought after experts on the topic of email marketing and digital marketing. He is the creator of over 20 digital marketing training courses. His outside the box thinking will take your company to the next level of success!
We bring the marketing experience that COUNTS!
See what one of our past attendees said...
Sign Up Today! Space Is Limited!
Get access to our special two-day, hands-on marketing workshop where you will leave with a great understanding of your marketing!
Here is EVERYTHING You Get...
+ Marketing Counts Live Event ($497 Value)
+ Paid Traffic Counts Course ($497 Value)
+ Social Media Marketing Counts Course ($97 Value)
+ Marketing Counts SEO Checklist ($67 Value)
+ One-Month Free Marketing Counts Club ($97 Value)
+ Marketing Counts Certification (Priceless)
+ New Ideas (Priceless)
+ New Connections (Priceless)
Total Value: $1,255
Your Investment: $297