Get More Referrals - Roundtable Event for B2B Focused Professionals
About this event
Did you know: 84% of B2B purchase decisions begin with a referral? There is no time better than now to work on building your business network to ensure success when things return to normal. Building these business relationships is vital and we'll help you get started right from your home office.
Expand your network by engaging with B2B focused professionals, who target SMB, in our engaging video conference. Start building business relationships with people who may have clients that can use your services. These like-minded professionals may help you access key decision-makers. This will be a fun, very productive 90 minutes - time very well spent. Our meeting will be hosted by Centricity CEO Jay Kingley (www.centricitynetwork.com)
PLEASE NOTE: You will receive a separate confirmation email from Centricity Network regarding your registration so we can provide you with Zoom login information.
About Jay:
Throughout his career, Jay has directed the marketing and business strategy for companies, ranging from solo practitioners to large multinational corporations. Having played a lead role for over 35 years in business development, sales, and lead generation he has mastered the techniques of building long-lasting relationships required to grow businesses. He has his undergraduate degree from Cornell and an MBA from Wharton with several successful start-up ventures under his belt. Jay sits on several Boards of Directors and is often a guest speaker at industry events.
In today's world, business owners are becoming more cynical, skeptical, and unwilling to believe something that doesn't come from a trusted source. For B2B professionals, this means the time it takes to go from introduction to paying client is taking longer, the number of leads needed has increased, while the conversion rate has decreased. Thus, the cost to acquire a new client in money, time and aggravation is skyrocketing and the need for access to decision-makers via one's network is even more crucial.
There are some powerful advantages to networking online to build a winning business network. First, a simple one, you don't waste any time getting to an event, parking, etc. You become far more efficient with your time. You'll be in a video conference with other like-minded professionals, focused and using your time wisely. That's worth real dollars, as you save hours every week. Second, you don't have to approach anyone to start a conversation. It's all right in front of you, we facilitate the conversations. We step you through an agenda that makes it easy to build these new business relationships. So, we've taken away the awkward approaches, the standing alone, the uneasiness. It's simply an easier process with people who want the same outcome as you.
Also, when you're networking online you can easily expand your geographic boundaries. Traditional networking is so limited by location, while online allows you to meet people from across the world if you so desire. This is an incredible advantage for B2B professionals who can serve clients anywhere. By no fault of their location, they've been held back by traditional networking. Online networking opens up new opportunities. Think about it this way, if you're a B2B professional in a big city, you're likely targeting only 1-2% of the country. Now, with online networking and our process, you can grab the other 98%. Of course, we provide the solution best for you, so if you need a business network with focused geography, we have those groups as well.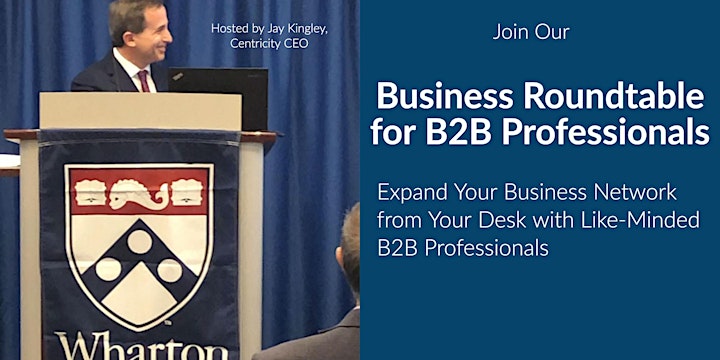 Business Networking for B2B Professionals - Online Networking Event for B2B Professionals - Virtual Networking Pacific NW