Description
Brunch and Learn With Us!
Cure Your Networking Nightmares is a Marketing Clinic & Business Growth Seminar in Atlanta - Vinings.
Are YOU suffering from NETWORKING NIGHTMARES?
Networking Nightmares is a very common marketing disorder caused by a chronic state of being ill-prepared to take advantage of ALL of the sales benefits that a healthy, strategic networking plan can deliver for your business.
Attention Small Business Owners …
Please STOP going to networking events that only WASTE your time and DON'T add to your bottom line!
Cure Your Networking Nightmares is a premier learning opportunity for Atlanta's professional, growth-minded, small business CEOs (Chief Everything Officers) who are serious about effectively growing more sales, partnerships, and profits through effective networking.
Whether you're a one-person operation, like a service business, tech start-up, law firm, medical/dental practice, CPA, real estate professional, insurance agent -- or have an established small business with 20+ employees, you won't want to miss this dynamic Marketing Clinic and business growth seminar on potent networking.
JOIN US FOR BRUNCH AND NETWORKING!
You'll enjoy a comprehensive business networking training session in a fun and relaxed atmosphere, a delicious brunch meal, bakery bites, gourmet coffee and an effective time of facilitated networking with your peers. You'll also walk away with tools and materials to help you implement all that you've learned right away!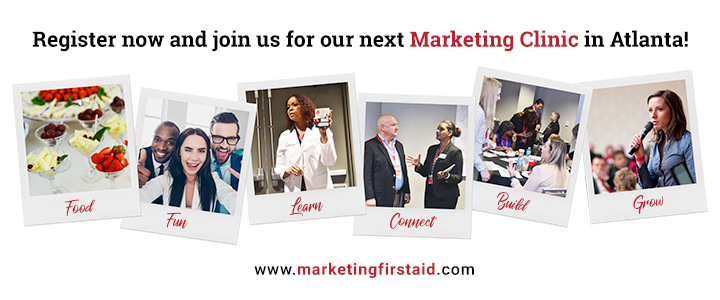 This Networking Marketing Clinic will cover:
1 - Which networking events are worth your time investment -- and why
2 - The #1 networking sales killer -- and how you can avoid being infected with it
3 - The role of referral partnerships in achieving your sales and profit goals
4 - The impact that Lame Business Cards have on your networking efforts
5 - How to create a coordinated, networking plan that aligns with your marketing strategy
GET YOUR TICKETS NOW BEFORE THIS PREMIER NETWORKING BRUNCH & LEARN EVENT IS SOLD OUT!
We look forward to seeing YOU at the Two Paces West Conference Center in Atlanta - Vinings (adjacent to the Cumberland / Galleria area) on Thursday, November 8, 2018, for a fun and informative Brunch & Learn Marketing Clinic from 11:30 am to 3:00 pm with Marketing Clinician, Kimberly Kelly, of Marketing First Aid, LLC.
Cure YOUR Networking Nightmares at this business growth, Brunch & Learn seminar in Atlanta - Vinings.
TAGS: Open Networking, Facilitated Networking, Business Conference, Teaching Seminar, Marketing Clinic, Brunch & Learn, Atlanta - Vinings / Cumberland / Galleria.
Things to do in Atlanta - Vinings / Cumberland / Galleria.
Organizer of Marketing Clinic: Cure Your Networking Nightmares – Atlanta Vinings
Marketing First Aid, LLC is a strategic marketing consultancy firm and creative agency serving Atlanta. 
We're specialists at crafting healthy, sales-focused marketing campaigns.
As a full-service marketing consultancy firm and training agency, we specialize in providing marketing urgent care to small business CEOs with 20 or fewer employers, who are experiencing a myriad of marketing health issues. 
Marketing Clinician Kimberly Kelly (agency owner) can help rescue, resuscitate and restore your small business's marketing to a state of healthy growth and vibrant profits, through consultive coaching, marketing campaign development, and creative design services.
We also host diagnostic marketing clinics each month to help you better understand the impact of costly, "sick marketing" practices.  You can also hire Kimberly to speak at your next event.
For more information, please get in touch at 1 (888) 360-5553, or visit www.marketingfirstaid.com.