Market Square Concerts celebrates its 40th Anniversary with guitarist Jason Vieaux, pianists Stuart Malina & Ya-Ting Chang, and HSO players.
About this event
Market Square Concerts celebrates its 40th Anniversary with a program featuring chamber music by world class living composers with deep connections to Central Pennsylvania. Compositions by Jeremy Gill, Robert Pound, Avner Dorman and Zev Malina will be performed by the Grammy winner, guitarist Jason Vieaux, pianists Stuart Malina and Ya-Ting Chang, as well as principal players from the Harrisburg Symphony.
ARTISTS:
Stuart Malina, piano / Ya-Ting Chang, piano
Andreas Oeste, Oboe / Jason Vieaux, guitar
Peter Sirotin, violin / Dawn Wohn, violin / Timothy Deighton, viola / Fiona Thomson, cello
PROGRAM:
Zev Malina: From Jack's Sketchbook: Six Vignettes for Piano Four-Hands (2021)
Robert Pound: "The Dance of Death" for Piano Trio (2002)
Jeremy Gill: Oboe Quartet (2020)
Avner Dorman: Guitar Quintet "How To Love" (2016)
Concert Sponsor: Dr. William Anderson
Season Sponsor: The Carole DeSoto Foundation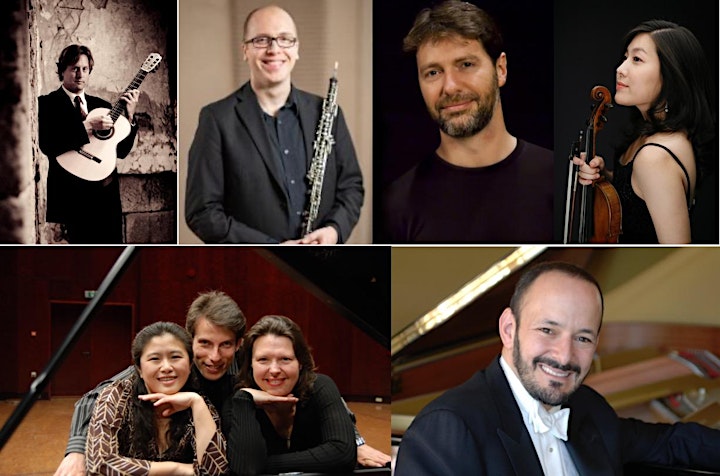 Organizer of Market Square Concerts 40th Anniversary Concert
Since 1981, Market Square Concerts has been dedicated to the presentation of a wide repertoire of chamber music performed by distinguished professional artists, both established and emerging. Our mission also includes education and engagement of the general public in chamber music as an art form, as well as collaboration with other arts organizations and community partnerships. With an annual summer festival and six concerts in the regular season, Market Square Concerts presents premieres of newly composed music as well as the monumental works from the most revered composers from the past and present.
Market Square Concerts presents its 39th season in full compliance with guidelines on social distancing, face coverings and size of gatherings. We look forward to sharing world class performances with Central PA community and return to the unique atmosphere of live musical experience missed by all of us during the past few months.
While we are still living through the COVID-19 pandemic, we ask for your understanding of the possible programming changes due to evolving international and domestic restrictions. We will do our best to keep all of you informed about any changes to the programs, artists and venues.
We deeply appreciate your support!
​