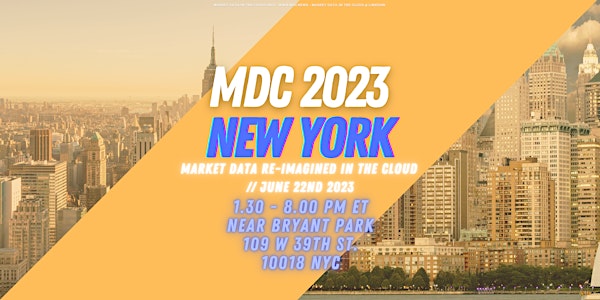 Market Data in the Cloud 2023 NYC
Market Data as a Service - A practitioner's view
By BCC Group International
Date and time
Thursday, June 22 · 1:30 - 6:30pm EDT
Location
109 W 39th St 109 West 39th Street New York, NY 10018
Refund Policy
Contact the organizer to request a refund.
Agenda
Main
Engineering Pre-Session
3:30 PM - 4:15 PM
Setup & Registration
4:15 PM - 4:20 PM
MDC Opening - Client Introduction
4:20 PM - 4:35 PM
Client Keynote - A glimpse at the future
4:40 PM - 4:55 PM
TRG Screen: Tracking order & usage in the cloud
5:00 PM - 5:15 PM
FactSet: Getting data cloud ready
5:20 PM - 5:35 PM
BCCGI: Market data delivery in the cloud
5:40 PM - 5:55 PM
Client PoV
6:00 PM - 6:45 PM
Business Panel + Q&A
6:50 PM - 7:00 PM
Charitable Organization
7:00 PM - 8:30 PM
Snacks & Drinks
About this event
The Storyline:
Come see the progress along with the proof of what is possible in the cloud. At this MDC event we will put the future of market data into practice. You will hear from those who make the journey to the cloud possible and from those that have decided to bring their market data to the cloud already.
We know that talking about it is great, but at this event, we will actually give you a hands-on experience of what the future of market data looks like. In minutes, witness the live installation of a vendor neutral market data platform streaming real-time market data to your phone!
After 30+ years of market data being locked into managed data centres running on proprietary hardware, how we access financial data is shifting dramatically. I am sure you have noticed market data in the cloud announcements appearing with increased frequency from the likes of CME, Google LSE, and Azure.
Join industry experts for an impactful afternoon and evening to discuss how you can move your market data strategy from the concept phase to market data reimagined in the cloud. Our market experts and practitioners will de-mystify many of the latest breakthroughs that are changing the data game.
Be among the first of your peers to hear the latest thinking on just how secure, efficient, and effective moving to the cloud can be. Learn how customers, data providers, and managed service providers are working together to harness the latest technology breakthroughs and guide capital market businesses as they embark or expand their journey to the cloud to mission critical workloads.
Our main topics:
Data readiness: FactSet will take you through the process of getting their data cloud ready.
Cataloguing & compliance: TRG Screen will demonstrate how managing spend, usage, compliance and enquiries is easier and more centralised than ever before.
Proving the capability: BCCGI will demonstrate that the technology to deliver real-time market data is not only existent, but ready to be deployed. With any vendor, in any cloud.
Managing the service: A managed service provider will speak about what it means to monitor and support a critical environment in the cloud.
Security, scalability & resilience: AWS will talk about what makes a cloud ready for critical workloads like real-time streaming market data.
About the organizer
BCC Group is a Software Development Company with focus on software development of highly reliable real-time messaging platforms based on Solace Middleware for all industry sectors. BCC Groups's core competence is the development of SW Solutions based on financial market data feeds (Bloomberg, Refinitiv, Morningstar, ActivFinancial, ICE, FactSet etc.). This includes resilient, high-performance Feed Handlers and Last-Value-Caches, enforced Entitlements as well as full Excel and HTML5 Integration.