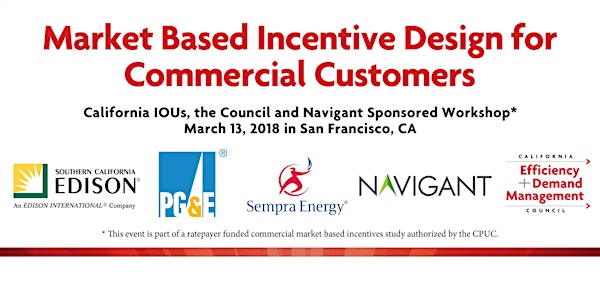 Market Based Incentive Design for Commercial Customers
Event Information
Location
Navigant Offices
101 California Street
Suite 4100
San Francisco, CA 94105
Description
California IOUs, the Council and Navigant Sponsored Workshop*: Market Based Incentive Design for Commercial Customers
March 13, 2018 – Navigant Offices, San Francisco, CA
IOUs, implementers and commercial customers will discuss what incentives customers may need to be offered – both monetary and non-monetary —in IOUs and 3P implementer programs to spur significant uptake in key commercial custom programs, considering locational and/or temporal situations, NMEC or AB802 To-code and above-code situations, and high impact technologies or segments.
In-person and Webinar available. Space is limited, so register today!
Snacks will be served.
* This event is part of a ratepayer funded commercial market based incentives study authorized by the CPUC.
Downolad Agenda: https://cedmc.org/wp-content/uploads/2018/03/Web-Agenda-Market-Based-Incentives-Worshop-with-IOUs-Navigant-and-the-Council-March-13-2018.pdf
Date and time
Location
Navigant Offices
101 California Street
Suite 4100
San Francisco, CA 94105