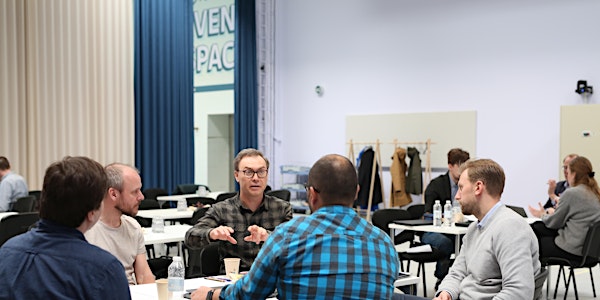 MARKET ACCESS SHOWCASE
Come celebrate 13 startups' results from their 10-week corporate collaboration and joint projects with NIRAS and NIRAS clients.
When and where
Location
NIRAS Green Tech Hub - EVENT SPACE Sortemosevej 21 3450 Alleroed Denmark
About this event
For online attendance:
https://teams.microsoft.com/l/meetup-join/19%3ameeting_OGVjMzg0NTAtOGY3Yi00NmFkLWIzZjMtN2RlM2RjODczZGRm%40thread.v2/0?context=%7b%22Tid%22%3a%2289f08739-91c0-47ae-a732-291b5df7a94e%22%2c%22Oid%22%3a%22b46227aa-31d9-4437-959c-7e0a84d619a7%22%7d
SHOWCASE:
Throughout 10 weeks, our 13 selected startups in the ACCESS TO MARKET Program, have been working directly with NIRAS Project Owners. This has, amongst other things, led to customized projects, demos and NIRAS client-startup collaborations.
We are so happy to be able to share these 13 unique collaboration projects with you. Come and see the future of food production, utilization of side-streams and fermentation, new ways of integrating sensor technology, data modelling and reducing CO2 emission, as well as new approaches to material upcycling and nature–based multifunctional solutions for green areas.
During this events you will get demonstrations and insights into the collaborations – more specifically;
Who was involved, How the project was scoped, and What the goals looked like. And of course, you will hear about the final results of the collaborations, and potential future prospects of continuing the collaborations.
The startups will showcase their results, and all involved NIRAS parties will join to elaborate on the value of collaboration and what this means to NIRAS.
Program:
15.00 - 15.05: Welcome by NIRAS Green Tech Hub Team
15.05 - 15.30: NIRAS Panel
15.30 - 17.00: Startup pitches
17.00 - 20.00: Celebration with bobles & tapas
Please remember to Sign up to participate. We have limited seats!
Meet: Maturix - Hemboo - EvodiaBio - SecondCircle - Eco Island - Ubiqisense - Excess Materials Exchange - ORCA - Leapcraft - Zupply - Woodsense - FÆRM
We look forward to celebrate this amazing Program with you, the startups, NIRAS Project Owners, NIRAS management and our clients.
All the best,
The Hub Team