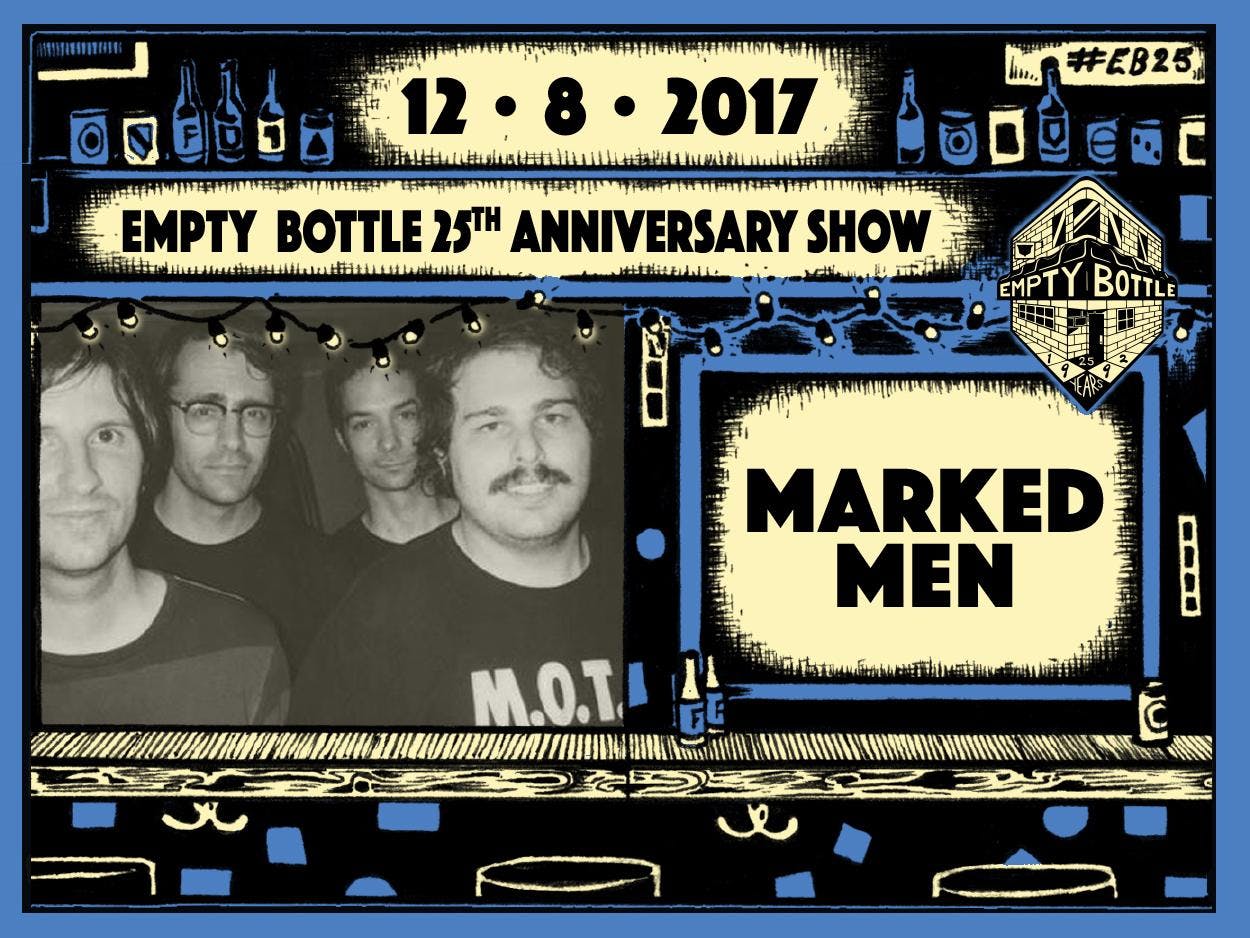 About this Event
We are excited to announce the return of the MARKED MEN to the Empty Bottle for our #EB25 anniverary series! Our love for these handsome fellas runs deep. Over four albums, a handful of singles and splits on excellent labels including Swami, Dirtnap, Nice & Neat and Shit Sandwich, the Denton-based quartet never failed to deliver tracks full of energetic ferocity built around rousing pop hooks. The fellas even filmed their video for "A Little Time" at the Empty Bottle. In the words of Squid Pro Quo, "this band epitomizes the term, 'break-neck pace;' how they manage to be so melodic and have so many hooks all while playing faster than Bad Brains is beyond me. THE HOOKS!!!"
DAYLIGHT ROBBERY make expansive sound for tight spaces. This Chicago trio of DIY scene anchors makes anxious post-punk for those who came to throw their bodies on the gears and those who came to dance (and recognize that these categories overlap). David and Christine Wolf are a forever-shifting point-counterpoint to one another, both in their melodic guitar and bass interplay and their big harmonies and vocal trade-offs, and Jeff Rice's propulsive drumming provides a solid metal foundation on which to build song structures that shift, collapse, and grow organically. You may hear echoes of the late '70s and early '80s in what they do, but their restlessness is very much of the now, the sound of the endless post-industrial search for stability rather than the sound of the late Cold War.
SKIP CHURCH is a Chicago band making waves around town that showcases the slightly mellower songwriting chops of JOE SCHORGL, lead singer/songwriter/guitarist of THE SUEVES. The scrappy crew of local rock & rollers set your heart on fire with their signature lo-fi garage riffs and all-around good-time attitude. As their slogan goes, "Skip Church. Go to Hell."
BRIC-A-BRAC DJs serve up the best rock, pop & slop throughout the night.