Description
Please join Global Paint for Charity, the Solid Waste Division and Gwinnett Clean & Beautiful on Saturday, November 18, 2017, from 9:00am to noon to celebrate America Recycles Day at Coolray Field, home of the Gwinnett Braves in Lawrenceville, a nationally-recognized initiative dedicated to encouraging local businesses and individuals to recycle more to protect the environment. This event will feature free paint collection (no paint thinners, stains, spackle, oil paint cans, rusted paint cans, or dried-up paint), free paper shredding (limit five copier paper boxes), electronics recycling ($10 cash fee per TV and Monitor, $5 cash fee per printer), tire recycling (limit eight tires per vehicle; no dealer tires), toner/printer cartridge collection and more. In addition, bring your old sneakers and gently used clothing to be donated to those in need or to be recycled into new products. Residents will enjoy free kids' activities, touch-a-truck, and will have the opportunity to meet their haulers.

WE TAKE:
LATEX PAINT
Interior and exterior latex paint
Water based paint
Flat, Gloss, Semi-Gloss, etc
OIL PAINT
New, unopened containers only
Interior & exterior

WE CANNOT TAKE
Paint thinners, stains, dry paint, spackle
Opened oil paint cans
Rusted cans with less than
25% wet paint
For suggestions for your Oil Paint Recycling and Rusted Cans Disposal please visit our website at http://globalpaints.org/suggestions.php

Volunteer Opportunities:
Looking for some community service hours or volunteer to make a difference on The America Recycles Day? Well this is the place to be!! Volunteers will be assigned to serve from 8:00am to 12:00pm to help collect paint donations and 1:00pm to 4:00pm to help unload the collected paint at Global Paint's Center. To sign up as a volunteer for this event please visithttp://globalpaints.org/volunteer.php or http://www.volunteergwinnett.net/.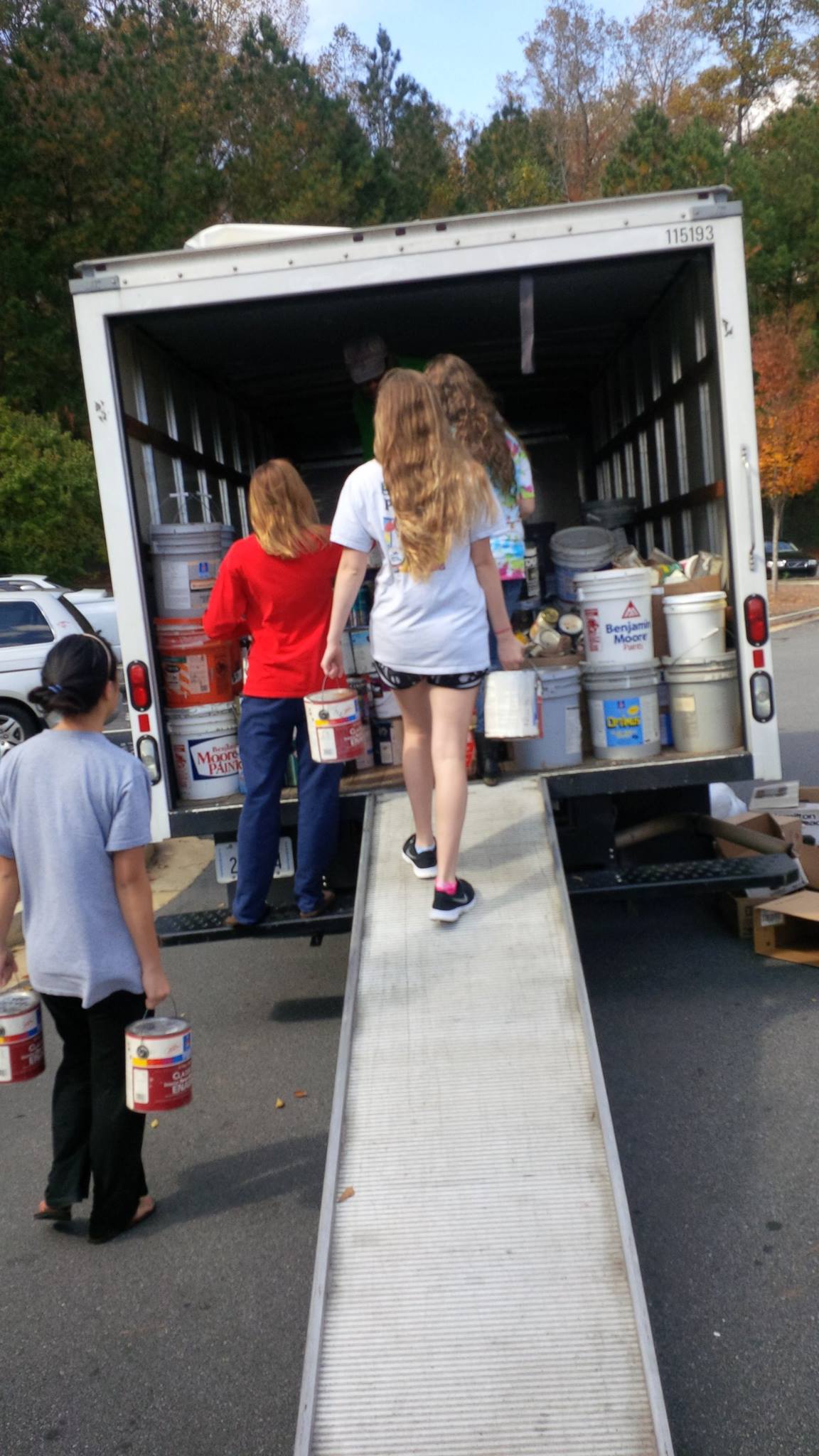 As usual, bring the whole family out from 9am-12pm to play around in every public and safety vehicle you can imagine will be at the Gwinnett Braves Parking lots, including fire trucks, dump trucks, motorcycles, school buses, Gwinnett County Police Trucks. Also there will be face painting and arts, balloon animals, and more for the kids. Parents and Kids of all ages can enjoy learning about Global Paint for Charity, Gwinnett County's solid waste programs and other recycling programs in our community. You will have plenty of time to meet and chat with our Board members, volunteers, students, city officials and supporters of our humble cause.

Please check our TAKE ACTION page for information about organizing a Paint Drive in your community, learn more www.globalpaints.org - TAKE ACTION!! All your donations are tax deductible.

Thank you

Rony Delgarde
Founder/President
www.globalpaints.org