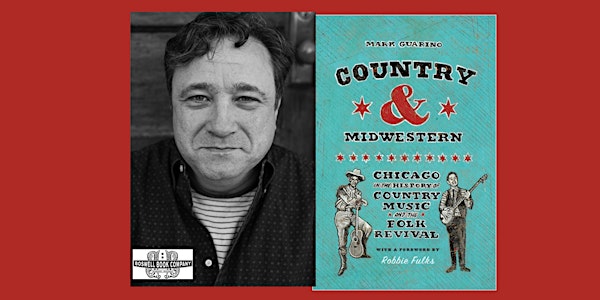 Mark Guarino, author of COUNTRY AND MIDWESTERN - an in-person Boswell event
Mark Guarino, author of COUNTRY & MIDWESTERN - an in-person Boswell event
Date and time
Starts on Thursday, June 8 · 6:30pm CDT
Location
Boswell Book Company 2559 North Downer Avenue Milwaukee, WI 53211
About this event
Boswell is pleased to host an event with Mark Guarino, journalist and author of Country and Midwestern: Chicago in the History of Country Music and the Folk Revival. In conversation with Milwaukee-area musician Paul Cebar.
In Country and Midwestern, veteran journalist Mark Guarino tells the epic century-long story of Chicago's influence on sounds typically associated with regions further south. Drawing on hundreds of interviews and deep archival research, Guarino tells a forgotten story of music, migration, and the ways that rural culture infiltrated urban communities through the radio, the automobile, and the railroad.
Featuring a foreword from Grammy-nominated singer-songwriter Robbie Fulks and casting a cross-genre net that stretches from Bob Dylan to punk rock, Country and Midwestern rediscovers a history as sprawling as the Windy City—celebrating the creative spirit that modernized American folk idioms, the colorful characters who took them into new terrain, and the music itself, which is still kicking down doors even today.
From the Booklist starred review: "With an epic scope, gorgeous photographs, and useful discographies, this is a vital contribution to the history of American music and required reading for country and folk music fans."
Mark Guarino covers national news and culture from Chicago for the Washington Post, ABC News, The New York Times, and other outlets. He was the Midwest bureau chief for the Christian Science Monitor for seven years.
Click here to order your copy of Country and Midwestern. Signed copies and personalization available on pre-orders. Please note that signed copies will not be shipped until after the event.