Mark Graban & Joe Swartz "Healthcare Kaizen" & Lean Workshop - Detroit Metro Area
When and where
Location
Wayne State University Oakland Center 33737 W. 12 Mile Road Room 156 Farmington Hills, MI 48331
Refund Policy
Contact the organizer to request a refund.
Description
Join speaker, author, and consultant Mark Graban for a small, interactive workshop to learn and practice methods from his work with hospitals and his books, Healthcare Kaizen: Engaging Front-Line Staff in Sustainable Continuous Improvements and The Executive Guide to Healthcare Kaizen.
Special announcement: Joe Swartz, co-author of the Healthcare Kaizen series will be presenting with Mark in this workshop! Joe is Director of Business Transformation at Franciscan St. Francis Health System, where he is the architect of their Kaizen program that has generated 20,000 ideas that have been implemented employees since 2006, generating millions in hard savings, along with countless benefits for patients and staff.
You might have heard about other healthcare organizations that are using "Lean" improvement practices. In particular, many health systems are using "Rapid Improvement Events" (aka "Rapid Process Improvement Workshops") as a way of driving change. However, a growing number of organizations are also embracing "daily Kaizen" -- or a process to facilitate small, meaningful changes as an ongoing continuous improvement methodology. If your organization has not yet started "going Lean," then daily Kaizen is a great way to get started before making the leap into larger events.
Attendees will learn through lecture, discussions, and a hands-on exercises that brings the Kaizen improvement methodology to life in a fun way. Registration is limited to 24 people to ensure a high level of interaction.
Morning coffee/tea and lunch will be provided (no additional charge).
Topics will include:
What is "Kaizen"?
How does Kaizen fit with the "Lean" methodology?
How is the Kaizen methodology different than suggestion box systems?
How are healthcare organizations using Kaizen on a daily basis?
How does daily Kaizen fit with weeklong improvement events or workshops?
How to engage front-line staff in Kaizen
What is required of leaders to create a culture of continuous improvement?
How does a department initiate, track, test, document, and share Kaizen ideas?
How to get started with a Kaizen program
Creating and managing a formal Kaizen program, including a Kaizen Promotion Office
What are some common mistakes that are made in a Kaizen program?
How to measure the ROI of a Kaizen program
As a result of this seminar, you will have proven, practical skills and methods that can be put in place to:
Improve staff engagement
Improve quality and patient safety
Improve patient and staff satisfaction
Reduce cost
Reduce delays and waiting times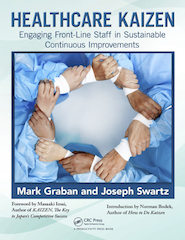 Each attendee (unless the ticket option without a book was selected) will receive a complimentary copy of Mark and Joe's book, Healthcare Kaizen, a $59.95 retail value. Discounted bulk purchases are also available for attendees.
Attendees will also receive a workbook of seminar slides and templates to use.
Comments about this workshop (as held in Denver, April 2013):
"Fantastic day with @MarkGraban leading an excellent Healthcare Kaizen workshop. Thanks for an inspiring and extremely useful session, Mark!" -- Attendee tweet
"Thank you for a truly GREAT experience in Colorado, your workshop was very practical and rich in wisdom; I am looking forward to reading Healthcare Kaizen." -- Attendee comment
"The Healthcare Kaizen workshop in Denver was truly energizing. The concepts of daily improvement were conveyed in a very easy-to-understand way through an effective combination of education materials and hands-on activities. The examples used in the workshop on where daily improvement can be implemented have direct applicability from the senior executive to the front-line staff. The workshop allowed me to interact with many healthcare executives and staff dealing with similar issues and problems, and showed all of us a path forward for how to address these challenges. Overall, this workshop provides a jump-start in creating a culture of daily improvement in healthcare organizations." -- Dave Levine, Executive Vice President – TechSolve, Healthcare Solutions
Who should attend:
Managers, Directors, Vice Presidents, Senior Leaders
Health systems
Hospitals
Medical practices
Dental practices
Specialty and outpatient clinics
Ambulatory surgical centers
Medical or MHA students (email mark@constancy.us for student pricing)
If you're a Lean / Process Improvement / Continuous Improvement professional, bring a department manager or director with you to the workshop! You'll be prepared to go back and make Kaizen happen, combining the methods from this workshop with your experience and coaching.
This is geared toward:
Those with zero Lean experience (as this methodology is a GREAT way to get started)
Those with Lean experience who have worked only in the framework of projects or weeklong events
Cancelation Policy:
Attendees can cancel for a full refund on or before January 15, 2014. After that date, you can have a colleague be a substitute for you in the workshop.
Group Attendees:
A group of five attendees or more receives a special rate. If you'd like to have Mark do a private on-site workshop for your organization, please email him at
mark@constancy.us
. If you want to have Mark invoice your organization to pay by check or credit card (meaning no Eventbrite fees), email him.
Endorsements for Healthcare Kaizen (the book AND the methods):
I hope you will discover, as we have, the incredible creativity that can be derived by engaging and supporting each and every employee in improvements that they themselves lead.
-Robert J. (Bob) Brody CEO, Franciscan St. Francis Health
Unleashing the energy and creativity of every employee to solve problems everyday should be the sole focus of every healthcare leader. Unfortunately, there are only a handful of examples where this is happening. Healthcare Kaizen provides examples of front line staff coming up with solutions to problems on their own and implementing them. Healthcare leaders need to read this book to understand that their management role must radically change to one of supporting daily kaizen if quality safety and cost are to improve in healthcare.
- John Toussaint, MD
CEO, ThedaCare Center for Healthcare Value
Author, On the Mend and Potent Medicine
Continuing education credits are not offered through this seminar.
More about Mark Graban (full bio):
Mark Graban is an internationally-recognized expert in the field of "Lean Healthcare," as a consultant, author (of the books Lean Hospitals and Healthcare Kaizen), keynote speaker, and blogger. In June 2011, Mark joined the software company KaiNexus as their "Chief Improvement Officer," to help further their mission of "making improvement easier" in healthcare organizations, while continuing his other consulting and speaking activities.
Mark is a popular speaker at conferences and private healthcare meetings. He has guest lectured at schools including MIT, Wharton, and Ohio State University and has served as a faculty member for the ThedaCare Center for Healthcare Value and the Institute for Healthcare Improvement. He has been quoted and interviewed in many publications, including Health Affairs and the New York Times.
More about Joe Swartz (full bio):
Joseph E. Swartz is the Director of Business Transformation for Franciscan St. Francis Health of Indianapolis, Indiana. He has been leading continuous improvement efforts for 18 years, including seven years in healthcare, and has led more than 200 Lean and Six Sigma improvement projects.
Joe is co-author of the book Seeing David in the Stone: Finding and Seizing Great Opportunities (Leading Books Press). He is a contributing author of Leadership Lessons: 10 Keys to Success in Life and Business (ASD Press). Joe has also co-authored (with Mark Graban) Healthcare Kaizen: Engaging Front-Line Staff in Sustainable Continuous Improvements (Productivity Press), and The Executive Guide to Healthcare Kaizen, released in August 2013.
Partners for this Event:
Michigan Lean Consortium (member discount available)