Description
Join speaker, author, and consultant Mark Graban for a small, intimate workshop to learn and practice methods from his book, Healthcare Kaizen: Engaging Front-Line Staff in Sustainable Continuous Improvements.
You might have heard about other healthcare organizations that are using "Lean" improvement practices. In particular, many health systems are using "Rapid Improvement Events" (aka "Rapid Process Improvement Workshops") as a way of driving change. However, a growing number of organizations are also embracing "daily Kaizen" -- or a process to facilitate small, meaningful changes as an ongoing continuous improvement methodology. If your organization has not yet started "going Lean," then daily Kaizen is a great way to get started before making the leap into larger events.
Attendees will learn through lecture, discussions, and a hands-on exercise that brings the Kaizen improvement methodology to life in a fun way. Registration is limited to 20 people to ensure a high level of interaction.
Topics will include:
What is "Kaizen"?
How does Kaizen fit with the "Lean" methodology?
How is the Kaizen methodology different than suggestion box systems?
How are healthcare organizations using Kaizen on a daily basis?
How does daily Kaizen fit with weeklong improvement events or workshops?
What is required of leaders to create a culture of continuous improvement?
How does a department initiate, track, test, document, and share Kaizen ideas?
What are some common mistakes that are made in a Kaizen program?
As a result of this seminar, you will have proven, practical skills and methods that can be put in place to:
Improve staff engagement
Improve quality and patient safety
Improve patient and staff satisfaction
Reduce cost
Reduce delays and waiting times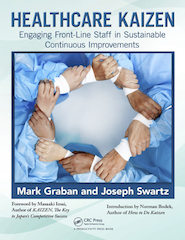 Each attendee (unless the ticket option without a book was selected) will receive a complementary copy of Mark's book, Healthcare Kaizen, a $59.95 retail value. Discounted bulk purchases are also available for attendees.
Attendees will also receive a workbook of seminar slides and templates to use.
Who should attend:
Managers, Directors, Vice Presidents, Senior Leaders
Health systems
Hospitals
Medical practices
Dental practices
Specialty and outpatient clinics
Ambulatory surgical centers
Medical or MHA students (email mark@constancy.us for student pricing)
This is geared toward:
Those with zero Lean experience (as this methodology is a GREAT way to get started)
Those with Lean experience who have worked only in the framework of projects or weeklong events
Endorsements for Healthcare Kaizen (the book AND the methods):
I hope you will discover, as we have, the incredible creativity that can be derived by engaging and supporting each and every employee in improvements that they themselves lead.
-Robert J. (Bob) Brody CEO, Franciscan St. Francis Health
Unleashing the energy and creativity of every employee to solve problems everyday should be the sole focus of every healthcare leader. Unfortunately, there are only a handful of examples where this is happening. Healthcare Kaizen provides examples of front line staff coming up with solutions to problems on their own and implementing them. Healthcare leaders need to read this book to understand that their management role must radically change to one of supporting daily kaizen if quality safety and cost are to improve in healthcare.
- John Toussaint, MD
CEO, ThedaCare Center for Healthcare Value
Author, On the Mend and Potent Medicine
Continuing education credits are not offered through this seminar.
More about Mark Graban (full bio):
Mark is a popular speaker at conferences and private healthcare meetings. He has guest lectured at schools including MIT, Wharton, and Ohio State University and has served as a faculty member for the ThedaCare Center for Healthcare Value and the Institute for Healthcare Improvement. He has been quoted and interviewed in many publications, including Health Affairs and the New York Times.
Mark will also be a panelist on Friday morning, April 12, at the Lean Healthcare event and panel discussion presented by Colorado Healthcare Strategy & Management. Learn more via their website -- (PDF).
Organizer of Mark Graban "Healthcare Kaizen" & Lean Workshop
Mark Graban is an internationally-recognized expert in the field of "Lean Healthcare," as a consultant, author, keynote speaker, and blogger. In June 2011, Mark joined the software company KaiNexus to help further their mission of spreading continuous improvement in organizations, while continuing his other consulting and speaking activities.
He is the author of the book Lean Hospitals: Improving Quality, Patient Safety, and Employee Engagement (Productivity Press), which was selected for a 2009 Shingo Research and Professional Publication Award and is being translated into seven languages. A 2nd revised edition was released in November, 2011.
Mark has also co-authored a second book, titled Healthcare Kaizen: Engaging Front-Line Staff in Sustainable Continuous Improvements, released in June 2012, now also a Shingo Award recipent. The companion book The Executive Guide to Healthcare Improvement was released in 2013.
For more information, visit www.MarkGraban.com.