About this Event
DOORS OPEN AT 7PM.
New England-based multi-instrumentalist Mark Erelli wears many hats--singer, songwriter, sideman, producer--but approaches each of these varied roles with a belief in the transformative power of paying attention. Bearing witness to small details and fleeting moments is what dignifies our everyday stories, rendering the mundane profound. This principle governs Erelli's approach to his craft, and is uniquely evident on his latest release, Mixtape, which features revelatory reinterpretations of songs by the Grateful Dead, Neko Case, Roy Orbison and others.
Erelli's two decade career highlights include 11 solo albums, stints accompanying Josh Ritter, Paula Cole and Anais Mitchell, and a pair of records he produced for GRAMMY-winning songwriter Lori McKenna. Ever since Billboard magazine heralded the "simple, atmospheric grace" of his Signature Sounds debut, Erelli's belief in the sacredness of an examined life has driven him between the ostensible extremes of lullabies and murder ballads, western swing and protest anthems. It has propelled him from the hallowed stages of the Newport Folk Festival, Grand Ole Opry and Royal Albert Hall, and beckoned him back home, to better nurture his 16-year marriage and be a father to his two young boys.
Whether he's holding a pen or a Telecaster, Erelli's music welcomes even the casual listener, but those who choose to dig more deeply are richly rewarded. Perhaps that is what Folk Alley hears in Erelli's songs, when it encourages people to "listen close; there's sure to be something in there to break your heart a split second before it leads you straight to grace."
https://www.facebook.com/markerelli/
https://www.instagram.com/markerelli/
https://twitter.com/MarkErelli
https://www.youtube.com/user/hillbillypilgrim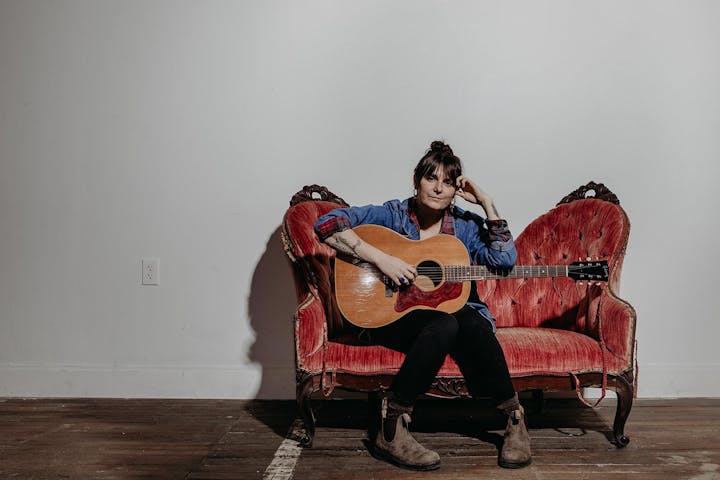 Hayley Sabella hails mostly from the New England coast. Inspired by the dramatic landscape and vast seasonal changes that range as much in temperature as they do in color, she reaches for the earth itself in its various forms to give her a sense of belonging. As the daughter of musicians and missionaries, this brought her to experience pivotal years of her childhood in Central America. Naturally, music became a tool through which she could make sense of the world and put down roots, despite a lingering feeling of displacement.
As evidenced in her songs, there is a lustrous display of tension and relief; a relationship between vulnerability and strength, death and rebirth, pain and love. Existing in performance as much as in song, this ongoing conflict allows audiences to gain a glimpse of Sabella's true persona; she may break your heart, but shortly thereafter will invite you in for a cup of tea, enjoyed most with whiskey.
After experimenting with fresh palets and uncharted terrain, Sabella has established a sound she's been ever yearning for with Forgive the Birds, the second full-length studio album, to be released this April. Forgive the Birds is both earthbound and ethereal, revealing gripping melodies and intimate lyrics with an unabashedly earnest delivery. Her voice, described as "honeyed, but with a mild rasp" by Redline Roots, dances over a finger-picked 1965 hollow-body Gibson; a signature sound of the record and a staple in performance, they make for a pair that seems to know one another, trusted companions both in writing and in travel.
Working with Daniel Radin of The Novel Ideas to produce Forgive the Birds, and enlisting the engineering talents of Harris Paseltiner, of Boston-based band Darlingside, this is, without a doubt, a homegrown record. Let it draw you in, feel the tug and pull, feel something.
https://www.hayleysabellamusic.com/
https://www.facebook.com/hsabella
https://www.instagram.com/haysab/