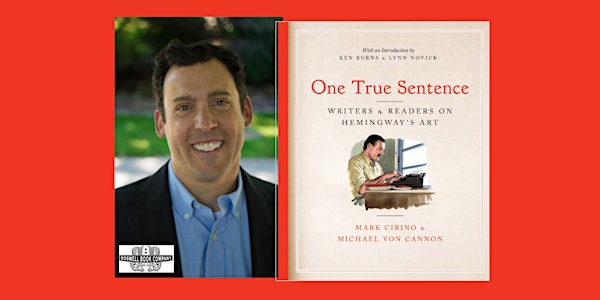 Mark Cirino, coeditor of ONE TRUE SENTENCE - an in-person Boswell event
Mark Cirino, coeditor of ONE TRUE SENTENCE - an in-person Boswell event
When and where
Location
Boswell Book Company 2559 North Downer Avenue Milwaukee, WI 53211
About this event
Boswell presents an evening with Mark Cirino, coeditor of One True Sentence: Writers & Readers on Hemingway's Art.
"All you have to do is write one true sentence," Hemingway wrote in his memoir, A Moveable Feast. "Write the truest sentence that you know." If that is the secret to Hemingway's enduring power, what sentences continue to live in readers' minds? And why do they resonate?
"All good books are alike in that they are truer than if they had really happened," wrote Hemingway. "And after you're finished reading one, you will feel that all that happened to you and afterwards, it all belongs to you." For readers of American literature, One True Sentence is full of remembrances - of words you read and the feelings they gave you. For writers, this is an inspiring view of an element of craft - a single sentence - that can make a good story come alive and become a great story.
From Publishers Weekly: "A revelatory compendium....readers are likely to come away with a deepened understanding of - and even awe at - Hemingway's vast talent."
Mark Cirino is the host of One True Podcast. He is the author/editor of six books about Ernest Hemingway and serves as the general editor for Kent State University Press's "Reading Hemingway" series. He served as the literature consultant on the forthcoming cinematic adaptation of Hemingway's Across the River and Into the Trees. Cirino teaches American literature at the University of Evansville.
Click here to purchase your copy of One True Sentence. Signed copies and personalization available on pre-orders. Please note that signed copies will not be shipped until after the event.