Description
Austin-based artist Marjorie Moore is headed back to New England, and Art.Science.Gallery. is honored to host an art sale and trunk show featuring her work inspired by natural history and collections before she departs.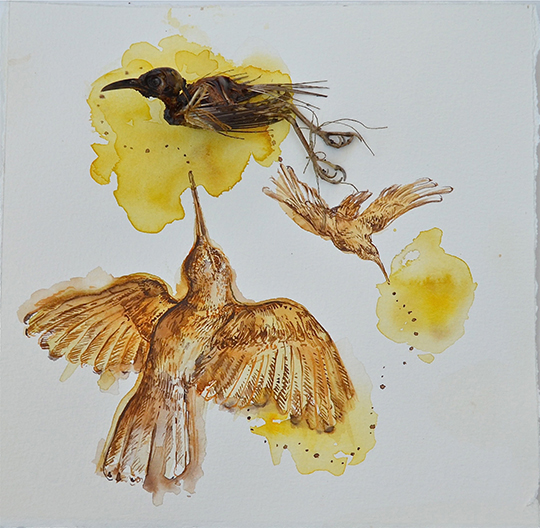 An Invitation From Marjorie "Texas life, 1993-2017, has been an adventure and a wonderful 24-year Art Journey, but it's time to return to the coast of Maine. Please come and view works from Monkeys to Game Boards, from Frogs, Birds, and Insects to Found Wonders of India. There will be many works in various media from which to choose at very reasonable prices."
In addition to her art, Marjorie will also have a trunk show of the scarves, tops, and pillows gorgeously printed from images of her most recent work.
Opening reception honoring Marjorie Friday, April 28th 6-9 pm
Art Sale & Trunk Show continues Saturday, April 29th 10am-5pm & Sunday April 30th 11:00am-3:00pm
About The Artist Marjorie Moore is a mixed-media artist with a continuing interest in objects both found and collected. Her exhibits expand the accepted realm of taxonomies to include the scientific, the plaything, the detritus of decay, and the strange. Previous exhibits include The Mother Art at Art.Science.Gallery. 2015, Labyrinth, Categories Under Construction at Texas State University, 2009; Remains, and A Different Order at DBerman Gallery, 2006, 2008; Categories, Collections, and a Cabinet of Wonder at Women and Their Work, 1999, and Collected Response with Steve Wiman at Flatbed Press in 2003.
Organizer of Marjorie Moore Art Sale & Trunk Show
Located in the Canopy fine arts complex in East Austin at 
916 Springdale Rd Building 2 #102, Austin TX 78702
Visit our art exhibits and gift shop of science-inspired art! An art space exclusively dedicated to science-art fusion, Art.Science.Gallery. has exhibited over 500 science-inspired artists since it was founded in 2012 as part of its mission to support the growing SciArt movement. 
Art.Science.Gallery. hosted over 50 free public events in 2016 alone including lectures by artists and scientists, classes & workshop, exhibits, film screenings, art projects, demos and science fairs. Our crowd-funded gallery relies on support from generous supporters like you to keep these events free and frequent. Thank you!